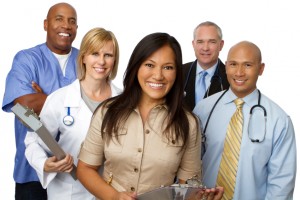 An MBA in Health Care Administration is a district degree that is designed for health care professionals who need a strong business background for a management career. This unique degree integrates the best of business and health care academics in order to help the student excel in health care administration.
Why Get a MBA in Health Care Administration?
The role of health care administration grows in importance every day. This is because a well-run health care system is essential for public and personal health. Upon graduation, students will be strong leaders who can develop caring and competent health care professionals. This degree will provide managers with extensive knowledge and a solid background in both business and health care administration. The program will teach students how to handle the most common and complex legal, ethic, financial and regulatory problems. Students will also learn about marketing, operational and quality control activities within health care organizations. This will enable them to increase their organization's revenue, brand awareness and quality of care. Graduates of MBA in health care administration programs will be empowered to analyze statistical and quantitative data in order to make informed business, finance and operational decisions in a health care setting.
MBA in Health Care Administration Coursework
All MBA in Health Care Administration will include advanced business classes that will cover standard topics, such as operations, organizational, performance and supply chain management. For example, students will learn about maintaining and managing health care supply inventories. Coursework may include managerial economics, laws and ethics, strategic marketing and quantitative analysis and decision making. To illustrate, students will learn about health care economics and how to reduce service costs while increasing value added benefits for patients. Specific health care classes will include public health policies, regulations and organization. Health care administrators must have a firm grasp of state, federal and certification health care regulations. Finally, there will be classes on health care structures, organization and administration. These will help the graduate assist with hiring, disciplining and firing employees.
What Jobs are Available in Health Care Administration?
The Bureau of Labor Statistics (BLS) states that health and medical managers are employed in a variety of positions. Almost all work in hospitals or ambulatory health care service organizations. Others work in nursing, residential or government care facilities. Some health care administrators work as environmental service managers and oversee buildings and maintenance departments. Others work as health information managers within IT departments. They are responsible to ensure that health care databases are accurate and only accessible to authorized personnel. Therefore, they must stay up to date with evolving IT security updates and health care regulation changes. On the other hand, clinical managers oversee their own department, such as surgery or nursing, and have unique operational responsibilities. For example, they must enforce policies, support goals, review budgets, update policies and evaluate staff performance. Finally, there are nursing home administrators who manage staff, monitor the admissions process and communicate with their patients' friends and family members.
Related Resource: Become an Emergency Room Nurse
To finish, health care administrators perform critical managerial and organizational tasks that are needed in order to run an efficient, cost-effective health care organization. An MBA in health care administration will provide a solid foundation of business acumen that is integrated with health care insight and knowledge.