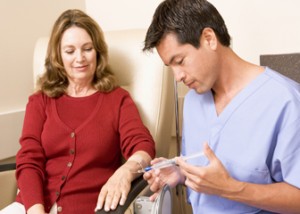 MSN-educated nurses are revolutionizing healthcare by implementing evidence-based solutions, serving as autonomous providers of quality care, improving healthcare delivery from the inside, and serving as changemakers and patient advocates at all levels of  leadership.
Nurses armed with an MSN have a deeper understanding of nursing science and the skills needed to work within increasingly complex and technologically-dependent healthcare systems. They hold jobs as educators, researchers, policymakers, patient and healthcare advocates, clinicians, consultants, administrators, executives, informaticists… in all roles, they demonstrate the skills needed to lead, improve nursing care, and drive positive change in healthcare policy.
Jobs for these advanced nursing professionals are varied, exciting, and in demand:
Popular Master of Science in Nursing Jobs in Direct Patient Care: Advanced Practice Registered Nurses (APRNs)
Some of the most in-demand jobs among MSN-prepared nurses are in the field of advanced practice registered nursing. Bedside, hands-on nursing care at the highest level is achieved by earning the MSN and national certification in one of the four APRN roles.
Nurse Practitioners
Nurse practitioners provide independent care in the areas of health promotion, disease prevention, health education, counseling, and the diagnosis and management of acute and chronic diseases.
NPs comprise the vast majority of all APRNs in the U.S. According to the American Association of Nurse Practitioners, as of January 2019, there were 270,000 NPs licensed to practice in the U.S. These nursing pros oversaw more than one billion patient visits in 2018 alone.
The scope of practice among nurse practitioners varies among states, with 23 states now allowing these APRN pros to practice autonomously.
NPs are certified in one or more patient populations:
Acute Care
Adult Health
Family Health
Gerontology Health
Neonatal Health
Oncology
Pediatric/Child Health
Psychiatric/Mental Health
Women's Health
They may also have specialized education and credentialing in:
Allergy and Immunology
Cardiovascular
Dermatology
Emergency
Endocrinology
Gastroenterology
Hematology and Oncology
Neurology
Occupational Health
Orthopedics
Pulmonology and Respiratory
Sports Medicine
Urology
Specialized Duties:
Ordering lab work and diagnostic tests
Diagnosing and treating chronic and acute conditions
Counseling
Educating patients
Prescribing medication and other treatments
Certification Requirements:
American Academy of Nurse Practitioners National Certification Board (AANPCB)
Family Nurse Practitioner (FNP)
Adult-Gerontology Primary Care Nurse Practitioner Certification (A-GNP)
Emergency Nurse Practitioner (ENP)
The American Nurses Credentialing Center Certification Program (ANCC)
Adult Nurse Practitioner Certification (ANP-BC)
Adult-Gerontology Acute Care Nurse Practitioner Certification (AGACNP-BC)
Adult-Gerontology Primary Care Nurse Practitioner Certification (AGPCNP-BC)
Adult Psychiatric-Mental Health Nurse Practitioner Certification (PMHNP-BC)
Advanced Diabetes Management Certification (ADM-BC)
Emergency Nurse Practitioner Certification (ENP-BC)
Family Nurse Practitioner Certification (FNP-BC)
Gerontological Nurse Practitioner Certification (GNP-BC)
Pediatric Primary Care Nurse Practitioner Certification (PPCNP-BC)
Psychiatric-Mental Health Nurse Practitioner (Across the Lifespan) Certification (PMHNP-BC)
School Nurse Practitioner Certification (SNP-BC)
American Association of Critical-Care Nurses Certification Corporation (AACN)
Acute Care Nurse Practitioner Certification Adult-Gerontology (ACNPC-AG)
Acute Care Nurse Practitioner (ACNPC)
Pediatric Nursing Certification Board (PNCB)
Primary Care Certified Pediatric Nurse Practitioner (CPNP-PC)
Acute Care Certified Pediatric Nurse Practitioner (CPNP-AC)
National Certification Corporation
Neonatal Nurse Practitioner Certification (NNP-BC)
Women's Health Care Nurse Practitioner Certification (WHNP-BC)
Salary Expectations:
The average gross income among nurse practitioners was $108,000 in 2018, according to a Medscape APRN Compensation Report 2019.
Clinical Nurse Specialists
Clinical nurse specialists implement best practices and evidence-based care work in a variety of healthcare settings. Their practice may be focused on a specific population, setting, disease or medical subspecialty, type of care, or type of medical problem. Therefore, they may specialize in everything from critical care to wound care to oncology to women's health to emergency care.
Unlike nurse practitioners, who tend to work both independently and collaboratively with other healthcare providers, CNSs have less autonomy and instead work closely with staff in a supportive capacity.
According to the National Association of Clinical Nurse Specialists (NACNS), there are more than 70,000 CNSs working in the U.S.
CNSs can practice independently in 28 states and prescribe independently in 19 states. More information on their scope of practice, by state, can be found here.
Specialized Duties:
Diagnose
Develop plans of care
Provide ongoing management of complex patients
Prescribe medications and durable medical equipment
Provide support and expertise to bedside nurses
Certification Requirements:
In most states, CNSs must earn certification based on a population area. Therefore, current national certifications available include:
American Nurses Credentialing Center Certification Program (ANCC)
Adult-Gerontology Clinical Nurse Specialist Certification (AGCNS-BC)
American Association of Critical-Care Nurses Certification Corporation (AACN)
CCRN Acute/Critical Care Nursing
CCRN-E TeleICU Acute/Critical Care Nursing
PCCN Progressive Care Nursing
CMC Cardiac Medicine
CSC Cardiac Surgery
ACCNS-AG Adult-Gerontology
ACCNS-P Pediatric
ACCNS-N Neonatal
Salary Expectations:
A Medscape APRN Compensation Report 2019 found that CNSs earned a gross average salary $102,000 in 2018.
Certified Nurse-Midwives
Certified nurse-midwives provide a full range of healthcare services for women, from adolescence to menopause. Services include primary care, gynecological and family planning services, preconception care, pregnancy care, care during childbirth and the post-partum period, care for the newborn during the first month of life, and treatment of male partners for sexually transmitted diseases.
The job scope of CNMs also encompasses health promotion, disease prevention, and wellness education and counseling.
CNMs are licensed, independent healthcare providers with prescriptive authority in all 50 states. As of A 2019, there were 12,218 CNMs practicing in the U.S., according to the American Midwifery Certification Board.
Their value has never been greater, given the nationwide shortage of OB-GYNs. A 2019 report by the Accreditation Commission for Midwifery Education (ACME) found that as of 2019, there was a shortage of 6,000-9,000 OB-GYNs nationwide. This figure is projected to increase to 22,000 by 2050.
Specialized Duties:
Conduct physical exams
Prescribe medications
Admit, manage, and discharge patients
Order and interpret lab tests
Certification Requirements:
American Midwifery Certification Board (AMCB) – Certified Nurse-Midwife (CNM)
Salary Expectations:
The average gross salary for certified nurse-midwives was $107,000 in 2018, according to a Medscape APRN Compensation Report 2019.
Clinical Registered Nurse Anesthetists
CRNAs provide anesthesia to patients for every type of surgery and procedure and in nearly all medical settings. In many rural areas, they serve as the sole anesthesia provider. They are also the sole provider of anesthesia care to the U.S. Armed Forces.
According to the American Association of Nurse Anesthetists, CRNAs administered anesthesia more than 49 million times in 2019. There are about 54,000 CRNAs in the U.S.
Specialized Duties:
Patient care before, during, and after surgery
Patient care before, during, and after labor and delivery
Trauma stabilization
Critical care interventions
Acute and chronic pain management
Diagnostic and therapeutic procedures
Certification Requirements:
National Board of Certification & Recertification of Nurse Anesthetists (NBCRNA) – CRNA
Salary Expectations:
The average gross salary for CRNAs was $188,000 in 2018, according to a Medscape APRN Compensation Report 2019.
Education, Consulting, Research, Administration, and Leadership Positions for MSN Nurses
While many nurses focus their MSN on achieving advanced practice nursing positions, many others choose to transition to indirect patient care roles, where they affect meaningful change in healthcare in new and exciting ways.
Nurse Informaticists
Boasting a truly unique skillset that combines nursing and data analysis skills, nurse informaticists are improving patient care and safety by parsing out important information from the mountains of healthcare data that are collected every hour within any given healthcare facility. These professionals analyze trends, monitor existing systems to identify problems, and implement new systems for managing and analyzing data.
Nurse informaticists combine their knowledge of nursing practice with skills in computer science and information technology, and often hold chief information officer positions in large hospital systems. Practice settings for these professionals include hospitals, health systems, academic settings, government/military, consulting firms, and ambulatory care settings.
Certification in this field is commonplace, with about half of all nurse informaticists holding a professional designation such as the Healthcare Information and Management Systems Society's (HIMSS) Certified Associate in Healthcare Information and Management Systems (CAHIMS) or Certified Professional in Healthcare Information Systems (CPHIMS).
Nurse Researchers
Innovation and discovery—if this calls to you, then a job in research is likely the perfect fit. Nurse researchers lend their talents in both pharmaceutical and medical research, where they write grant proposals, evaluate data, and conduct cutting-edge research.
These professionals may work for private research firms, healthcare organizations, biotech and pharmaceutical companies, or colleges/universities. The work in this field often addresses some of the most important health issues affecting people. For example, just some of the groundbreaking research to come out of the National Institute for Nursing Research includes:
Identification of a Potential Blood-based Biomarker for Diagnosing Mild Traumatic Brain Injuries
Palliative Care Intervention Improves Well-Being of Cancer Patients and their Caregivers in Community Practice Setting
Brain Imaging Shows that Damage Caused by Sleep Apnea Differs by Sex
Micronutrient Deficiencies are Associated with Poor Heart Failure Outcomes
Microbiome Associated with Differences in Symptoms and Quality of Life in Women with Irritable Bowel Syndrome
Nurse Educators
Nurse educators take their passion for teaching and providing the next generation of nursing professionals with high-quality learning experiences, and apply it in both classroom and clinical settings.
MSN-educated nurse educators oversee nursing programs of all levels, where they evaluate and implement curriculum.
There may be no better time to pursue an MSN in nursing education than now, given the nation's persistent shortage of educators. According to a 2018 report by the AACN, 872 nursing schools reported a total of 1,715 faculty vacancies. Further, most schools reported the need to create more faculty positions to meet student demand.
Nursing Administrators
Nursing administrators serve in management positions in healthcare facilities. They oversee the nursing staff and focus on issues related to management, planning, and budgeting. Staff development is a major concern of nursing administrators, and they must ensure regulatory requirements are consistently met.
Common titles among nurse administrators include nurse manager, director of nursing, and chief nursing officer. These professionals often demand top salaries. For example, according to 2018 BLS statistics, the median salary for nurse administrators was $99,730. The top 10% earned an average salary of $182,600.
Clinical Nurse Leaders
Clinical nurse leaders are generalist nursing clinicians whose major role involves overseeing care coordination of a group of patients. As part of an interdisciplinary healthcare team, CNLs communicate and plan with other healthcare professionals to ensure the best plan of care for patients. They evaluate patient outcomes, assess risks, and change care plans, if needed.
Choose a career as a CNL and you'll be able to work in nearly setting and across the continuum of care. The Commission on Nurse Certification (CNC) revealed that most CNLs work in the following settings:
Acute care inpatient
Schools of nursing/university health systems
Outpatient clinics/surgery centers
Nursing homes
Community public health
To formally hold the title of CNL and use it as an official credential, you'll need to earn CNL certification through the CNC, which requires completing an accredited master's program and taking and passing the CNL exam. While voluntary, this certification is held by more than 7,700 CNLs in the U.S.
Public Health Nurses
Public health nurses focus on many areas of public health, including advocacy, education, activism, and prevention. Their job, which includes caring for the needs of entire community populations, is largely focused on identifying health risk factors, designing and implementing public health education campaigns, and serving as advocates that work in concert with government to improve access to healthcare for underserved communities. They may also provide direct patient care.
Public health nurses are employed through nonprofit organizations, community health centers, and government agencies, and they represent the largest group of public health practitioners working in state and local health departments.
There's plenty of support for this field, particularly from the four associations that make up the Quad Council Coalition of Public Health Nursing Organizations (QCC):
Association of Community Health Nurse Educators (ACHNE)
Association of Public Health Nurses (APHN)
American Public Health Association (APHA) – Public Health Nursing Section
Alliance of Nurses for Healthy Environments (ANHE)