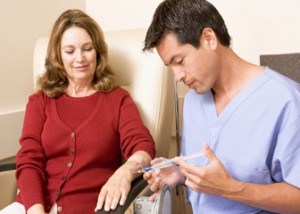 Master of Science in Nursing Jobs can be found in a variety of healthcare facilities, from the very small to the very large. The Master of Science in Nursing degree is designed for registered nurses who have completed a Bachelor of Science in Nursing, or have received their RN credentials from a hospital, associate program, or through another bachelor's program. By completing a Master of Science in Nursing (MSN), registered nurses gain opportunities to further their careers, receive increased pay, and contribute to the development of the health field. Registered nurses with an MSN can move into management and administrative positions, or contribute to nursing education, research, health care and technology.
Potential MSN graduate students attend accredited colleges and universities for on-site or on-line classes and practicums. Attending an institution with high ranking can help registered nurses achieve their personal and career goals. In Philadelphia, the University of Pennsylvania's highly-ranked MSN certification offers three tracks, in Nursing and Health Care Administration, Health Leadership, and a dual major with Master of Business Administration. The University of Texas at Austin's top-ranked program offers MSN students a focus in Healthcare Systems Management and Nursing Administration.
Popular Master of Science in Nursing Jobs
Master of Science in Nursing jobs offer degree-holders plenty of opportunities for job variety and advancement, a selection of schedules, high earning potentials and career satisfaction. Following is a list of 5 popular career paths those who have earned a Master of Science in Nursing may choose to take.
Advanced Nurse Practitioners
Advanced nurse practitioners (APNs) serve numerous types and ages of patients, in a variety of health care delivery systems. Certified nurse midwives focus on maternity patients and their infants. APNs also specialize in pediatrics, family care, gerontology, or specialize in working with patients with specific illnesses such as cancer or Alzheimer's. The pay often depends on the delivery system. Direct care nurses work in general or specialty hospitals, doctors' offices, community or public health clinics, or in home or school settings. Other services are provided in ambulatory or extended care facilities and nursing homes. Nursing care facilities and home health care services pay from $60,000 to $65,000 annually. General or specialty hospitals, physicians' offices, and outpatient clinics offer an average Master of Science in Nursing salary ranging from $69,000 to $72,000. Highly-trained nurse anesthetists earn about $100,000 in these delivery systems.
Nursing Administration
One of the most popular Master of Science in Nursing Jobs is in Nursing Administration. Registered nurses who earn an MSN in nursing administration can expect a yearly salary range of $60,000 to $200,000. Long-term care nurse managers can earn from $60,000 to $70,000. A nursing supervisor with additional responsibilities rates between $70,000 to $80,000. Graduates with an MSN who accept responsibilities as nursing directors move up into the $100,000 to $130,000 salary schedules. As a head of nursing, the MSN graduate earning potential rises to between $150,000 to $200,000.
Nursing Education
MSN graduates specializing in nursing education work as teachers, instructors, and professors at a variety of institutions. Colleges and university nursing instructors earn about $67,000 a year. Business schools offering nursing programs pay slightly higher, about $70,000. For clinical education managers, general medical and surgical hospitals raise the salary expectations to an average of $77,000. The highest paid nursing instructors work at specialty hospitals for $100,000 per year.
Research
Clinical nurse specialists assist with assessment and logistics of nursing and health care institutions. Job descriptions include scholarly research, data evaluation, and statistics. Other possible responsibilities involve studying personnel guidelines, hospital procedures, staffing credentials, and administrative processing. Nursing infomatics coordinators set institutional goals and objectives, including implementing and maintaining technology systems.The yearly salary ranges from $75,000 to $100,000, with a median salary of $90,000.
Consulting
Nurses with MSNs are often tapped for consulting positions according to their field of expertise. A certified legal nurse consultant works with attorneys, private businesses, government agencies, or insurance companies to assist with projects that include legal issues, health delivery costs, and standards of care. Community nurse consultants offer advice to care centers and nursing homes. Occupational consultants focus on managing stress, exercise, health, and ergonomics. Management consultants aid with risk management, communications, costs, and certification. Specialists in specific health conditions can advise on issues such as diabetes, wound care, and autism. Consultants are often independent contractors working varied hours and schedules, and earning about $125,000 per year, making consulting one of the more lucrative Master of Science in Nursing Jobs.