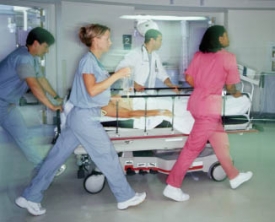 As you explore your career options in nursing, you may be wondering how to become an emergency room nurse. Emergency room nursing is an important job that requires nurses who are skilled and good at thinking on their feet in a variety of situations. While nurses trained in emergency skills are needed in traditional emergency rooms in hospitals, they are also needed in a variety of other settings such as pre-hospital transportation, flight nursing, crisis intervention centers and government agencies. Emergency nursing requires people who can multi-task, cope with crisis, assess patients well and be strong advocates for what their patients need. These skills can take time and experience to develop.
Path to Emergency Nursing
If you feel drawn to emergency nursing care, your path toward that career goal will begin as any nursing career does, by becoming a registered nurse (RN). Registered nurses are those who have completed nursing training at the diploma, associates or bachelors level of education, and who have taken and passed the national exam called the NCLEX. Once you have become an RN, you can look into different types of nursing that interest you. Although not all hospitals or other healthcare settings hire new nurses to work in the ER, some will, especially since there is a current nursing shortage and emergency nurses are often in demand. If you want to pursue working in an emergency room and are a brand new RN, you will want to take that into consideration as you look for a job. Some hospitals have orientation programs or internships that will allow freshly minted RNs to spend some months learning the ropes in ER under capable supervision, according to Emergency Nurses Association. Programs like that allow you to learn skills you need to succeed in emergency nursing.
Experience and Credentialing
Even if the facility where you are employed doesn't want to hire you to work in ER right out of nursing school, there's no cause to despair. There are other departments you can work in, such as critical care or step-down units, that can provide you with invaluable skills that will help you on down the road if you still decide you want to pursue emergency nursing. While you are working in other departments, or working in an orientation or internship in an ER, you can also begin to network with other nurses in emergency care to learn all you can.
Although an emergency nursing credential is optional, over 30,000 nurses have gone that route and now hold a CEN (Credential of Emergency Nursing). You can take the exam if you are a current RN; a minimum of two years of experience in an emergency department is recommended prior to sitting for the test.
Related Resource: Gerontology Nurse
Whatever route you decide to take as you pursue this career path, it is particularly important that you learn how to assess patients quickly and professionally. Clear-headed thinking and an ability to stay calm and prioritize well are also important. Showing that you have those skills and capabilities is a real part of how to become an emergency room nurse.