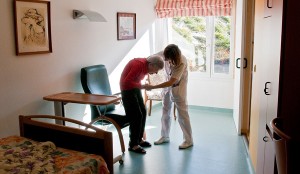 A Long-Term Care Executive in Nursing is a nurse administrator who oversees nursing staff who deliver skilled nursing care to patients residing in long-term care facilities. If you would like to understand the role of the nursing executive in the long-term care environment, it is important that you learn just what your roles and responsibilities will be. Once you find out what executives in nursing do and what types of decisions they make, you can then learn what it takes to hold the title so that you can get to work.
Distinguishing Between Assistant Directors and Directors of Nursing
There are two top administrative nursing executives who are needed in Long-Term Care settings: the Assistant Director of Nursing and the Director of Nursing. The Assistant Director works under the Director and is in charge of managing the clinical operations within a facility, staff education for all nursing professionals, scheduling, recruiting, retaining existing staff, quality assurance of care given and even customer service.
The Assistant Director of Nursing reports directly to the Director of Nursing, who is the top executive in charge of providing excellent, quality service and treatment to the patients within the facility. Some of the duties of the Director of Nursing include: development of nursing policy, overseeing recruitment, ensuring skills are adequate, testifying at trial if there is litigation, collaborating with other allied healthcare professionals and assessing needs of all residents.
What Skills Do You Need to Be a Leader in Long-Term Care?
Not everyone is a good fit for a manager or administrator role in nursing. If you want to fill this role, you need to have inherent leadership skills. You also need to be both a skilled nursing professional along with a skilled business professional who knows how to run a business from behind the scenes. Quality internal and external communications is a must to build a staff that trusts you and respects you. If you feel like you possess these skills, you will need advanced training to compete for competitive jobs with other qualified candidates.
Experience Needed to be Executive in Nursing
The first step to becoming an executive in any healthcare setting is to become a Registered Nurse. If you have not yet studied for your nursing degree and your pathway involves an advanced degree, you should take a Bachelor of Science degree program to qualify to sit for the NCLEX for RN licensure. After you have earned licensed, it is important to find a long-term care facility that you enjoy working, because you will need at least five to 10 years' of experience caring for patients. You may also need to have experience as a supervisory role.
Educational Requirements
While you are working as a nurse, you should enroll in a graduate level program to study for a Master of Science in Nursing with a minor in Business Administration or Healthcare Administration. Once you complete the dual degree program, you will be eligible to become a Certified Director of Nursing in Long Term Care, according to National Association Directors of Nursing Administration in Long Term Care. To hold the certification, you will need to take certification exams and show that you have two years of Assistant Director of Nursing or Director of Nursing experience.
Related Resource: Ambulatory Care Manager
As the demand for long-term care services continues to grow, the need for more facilities and more executives is being created. To fill in the growing gap that exists between supply in demand, the sector needs talented executives. Decide if you want to become a long-term care executive in nursing and then get started with your studies.