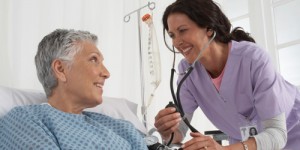 An ambulatory care managers are health care professionals who supervise ambulatory care nurses, centers and departments. Keep reading to learn what an ambulatory care manager is and how to become one.
What is Ambulatory Care?
According to the American Academy of Ambulatory Care Nursing (AAACN), ambulatory care is a complex and collaborative practice that unites different health care fields. It is a comprehensive practice that is built on a knowledge base of nursing, health care and applied clinical science. In order to ensure and achieve quality patient care, ambulatory health care professionals use evidence-based research and information. Ambulatory care settings include clinics, surgery centers, hospitals and community health facilities. Tele-health ambulatory care is also becoming a standard component of ambulatory care management. The bulk of the work is performed by ambulatory care RNs who are trained to assist with the management of acute and chronic illnesses and injuries. Ambulatory care managers will oversee all operations, including finance, emergency response, customer service and regulatory compliance.
Entry-Level Ambulatory Care Management
Entry-level or assistant ambulatory care managers will help personnel perform their duties, including RNs, LVNs, CNAs and other health care technicians and professionals. They will also assist their subordinates through coordinating professional staff development opportunities. They must have a high level of clinical expertise, knowledge and leadership. They should also be able to creatively approach problem solving and care management. An entry-level ambulatory care manager must support and coordinate all applicable policies, procedures and programs. They will assist with planning, evaluating and adjusting staff schedules and activities.
Ambulatory managers will also be responsible to ensure that health care documentation is accurate, compliant with regulations and completed in a timely manner. They will assist senior ambulatory care with evaluating employee work performance and training progress. They must continually evaluate standards of care and make appropriate recommendations to improve compliance. This will require them to support and maintain an active Performance Improvement (PI) program. Finally, they must collaborate with staff to identify and resolve safety, quality and performance issues. Thus, they will investigate and resolve patient complaints and related issues on a daily basis.
Senior-Level Ambulatory Care Management
Senior-level ambulatory care managers will report to a health care director or executive. They must assist with purchasing, inventory management and contract reviews and approvals. They must maintain financial documents related to operations, expenses, personnel, administration and maintenance. Therefore, they must oversee the budget and provide regular reports to upper management. Related to this, they must maintain applicable state, federal and regulatory licenses and permits. Consequently, they will be involved in internal, external and re-certification audits. Therefore, they must have excellent analytical, administrative and problem-solving skills.
Ambulatory managers will also perform standard HR tasks, such as interviewing, hiring, coaching, disciplining and firing employees. Excellent interpersonal and legalistic skills are needed to keep employees satisfied while maintaining compliance with performance regulations. Thus, they may also assist with new employee orientation, benefit enrollment and the exit process for terminated employees. Many senior-level ambulatory care managers act as liaison with the HR department heads. They will be the public face of the center or department and serve as community outreach coordinator. They must ensure that patient revenues are accurately captured, processed and posted within set time frames. They will oversee day-to-day operations involving customer service, patient flow, facility management and staff mediation.
Related Resource: Become a Forensic Nurse
Overall, an ambulatory care manager is a health care professional who supervises personnel who provide critical services to patients. Being an ambulatory care manager is a challenging, yet worthwhile health care career.