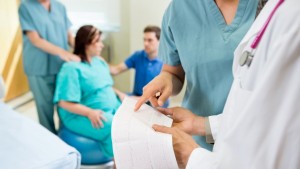 While all nurses have important jobs, perhaps few nurses are as unforgettable for their patients as a labor and delivery nurse. These nurses work with women during childbirth, providing care during the important time leading up to delivery, assisting the patient and other health professionals during the delivery, and also providing care for the mother and baby after the infant is born. It's an important role and one that can feel highly rewarding.
Assisting Before and During Childbirth
A labor and delivery nurse is an RN who comes alongside an expectant mother to help her prepare for and to effectively move through the initial stages of labor. A labor and delivery nurse is trained to handle the necessary monitoring of the patient during this phase of childbirth. That may include a variety of tasks, such as timing and coaching the expectant mom to breathe through contractions and tracking her blood pressure. The nurse may also be the one to monitor the baby's heart rate to make sure that the baby is not experiencing any distress. If the mother is having a hard time progressing and the doctor decides to induce labor, the labor and delivery nurse may be the one to administer the medicine needed to help the process. It may be the nurse's role to help the mother know when it's time to transition from the initial stages of labor to active pushing.
Labor and delivery nurses may also help to administer or monitor other medications that a woman in labor may need. If an epidural is needed, they may assist in that. In case of complications during childbirth, they may also need to assist in, and help prepare the mother for, a cesarian section. They may also work as the circulating or scrub nurse in the operating room during a c-section delivery. For all these reasons and more, a labor and delivery nurse needs to be able to provide a confident and calm presence to the expectant mother and the spouse or any other family member assisting the mother as she goes through labor. A labor and delivery nurse is required to be trained in neonatal resuscitation and also fetal monitoring, according to Nurses for a Healthier Tomorrow.
After Childbirth
The role of the labor and delivery nurse doesn't stop once the baby is born. Often the nurse will assist the new mother as she learns how to breastfeed and otherwise care for her new infant in the days following the baby's birth. A labor and delivery nurse will also help assure that the mother herself receives the care she needs so she is ready to go home in optimum shape as she takes on her new mothering role. If the mother has had a c-section, that may mean teaching her to take care of her scar post-surgery.
Related Resource: Become a Pediatric Nurse
Many women will tell you that childbirth is one of their most vivid and memorable life experiences. A good nurse can help this challenging but very happy time be as safe and comfortable as possible. Whether labor and delivery moves along smoothly with few complications or is an unexpectedly difficult process, a skilled and compassionate labor and delivery nurse can make a big difference for the expectant mother and her baby.