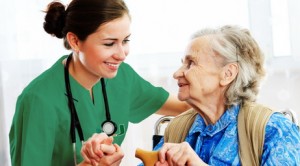 A gerontology nurse is a nursing specialist who works directly with older adults to provide them with specialized care and a high quality of life. If you are interested in specializing your career within the field of nursing, it is important that you compare all of the options that are high in demand first. In gerontological nursing, you will do much of the tasks that a general nurse does and then some. Find out what your role will be and what you can expect in this specialty area before you start your focused studies.
What is the Role of the Geriatric Nurse?
A geriatric nurse is a specialist who will help elderly patients recover from illness or injury by providing practical care and developing patient care plans. They may also help with rehabilitation and conduct check-ups in skilled care facilities or hospice facilities. While many specialists in this field administer medication and assist with pain management, they are also trained to focus on preventative care so that their patients are able to avoid injuries and common medical conditions that develop most commonly later in life.
What Type of Specialized Training Do You Need to Work in Gerontology?
As you might expect, you will need to advance your education if you want to go from being a generalist to a specialist in the field of nursing. The first step to holding the title of Certified Geriatric Nurse is to become a Register Nurse by either earning your Nursing Diploma or your Bachelor of Science in Nursing, according to Discover Nursing. Once you take the NCLEX-RN examination for licensing, you will be ready to get the hands-on experience that you need to get certified.
You will need no less than two years of clinical experience and 2000 hours of experience in geriatrics. You also need to complete 30 hours of continuing education courses in subjects that pertain to geriatrics before you can test for your certification through the American Nurses Credentialing Center. Be sure to decide if you want to get credentialed in primary care, mental health or acute care before you apply.
What Does the Future of Gerontology Nursing Look Like?
You know that there will always be a demand for nurses, but when you must spend time furthering your education you need to be sure that the area you are specializing in shows promise for growth. The demand for almost all nurse specialties is on the rise, but it is especially high in geriatrics. As Baby Boomers age and the number of people living well past 80 grows, the need for those with an aging expertise grows. If you are looking for a growing specialty that will have a very high demand now and in the future, this could be one of the smartest choices, according to Nurse Journal.
Related Resource: Become a Nurse Manager
Advanced practice nurses who specialize in gerontology work in many different settings. Some of these settings include private practices, personal homes, and nursing homes. If you have a passion for helping patients who need nursing care the most, this could be the most fulfilling path. With a great outlook and a nice salary range, geriatric nursing is a multi-faceted field where you can grow as a professional and as a person. Be sure to take classes in areas of study like acute illness management and chronic illness management and then test to become a certified gerontology nurse.