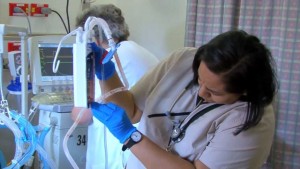 If you are looking to choose a specialty in Critical Care nursing, you should take the time to learn what an ICU nurse does first. While it is a very rewarding area to work in, a nurse who works in either the Intensive Care Unit or the Critical Care Unit must be equipped to deal with the emotional toll that the setting can take on clinicians. To truly decide whether or not this is the area of nursing for you, you should start by learning your role and the general job functions that you will perform on a daily basis. After you find out the role of an ICU nurse, you can move on to finding out what you must do to specialize in the field.
What Type of Patient Will you Work With?
If you work in the critical care specialty, you will provide clinical care to critically ill patients who are in the process of recovery. The type of medical condition that the patient is recovering will dictate where they will be treated. Some patients who are sent to small hospitals may not go to a specific trauma or surgical unit, but larger hospitals are designed to accommodate specific patients with specific illnesses in different units.
What Setting Will You Work In?
If you work in ICU nursing, you can work in one of multiple settings. Most often, you will work in a larger hospital that has a Medical Intensive Care Unit, but you may work in a smaller Surgical Intensive Care Unit as well where you work with patients who have just undergone surgery and are in an unstable state. Some, who are prepared to deal with horrific trauma, may be employed in the Trauma Intensive Care Unit where survivors or car crashes and other traumatic injury will be sent.
What Are the Duties of the Critical Care Nurse?
A patient who is in the ICU will need a nurse's attention much more than a patient who requires basic care. This is why ICU nurses will typically care for just one or two patients throughout the course of a day. Their job is to assess the patient's condition, monitor and safeguard quality of care delivered, act as a advocate for the patient and their family, support the family by providing education, and monitor bodily function closely in an effort to change the treatment when necessary, according to the American Association of Critical-Care Nurses. Since a patient's condition can change so quickly, this area of managed care can be one of the more demanding areas.
How to Become an ICU Nurse
You will need to become an RN before you consider specializing in Critical Care. After you are licensed, you should get exposure to critical care at an entry-level role. While certification is not a requirement, it is preferred by most employers. In order to sit for a certification test to become a Critical Care Registered Nurse, you will need two years of experience working in the setting at a clinical capacity.
Related Resource: Become a Pediatric Nurse
Since ICU nurses have a limited number of patients, the demand for specialists is on the rise. This demand has led to a major shortage that can benefit anyone willing to work in a chaotic and emotionally-fueled environment. If you think that you can do what an ICU nurse does, start to get experience and looking for openings.