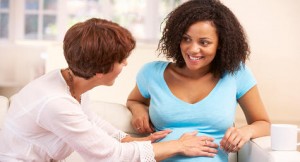 If you are looking for a nurse specialty to pursue, you should take the time to learn what a nurse midwife does so that you can decide if midwifery is a good specialty area for you. Nurse midwives provide a wide range of routine gynecological services, prenatal and postpartum services and also attend births in homes as well as hospitals. If you have always dreamed of being part of the delivery process or helping expectant mothers stay healthy, midwifery could be a great area of nursing for you. Read on, and find out what these certified specialists do and how to become a specialist as well.
What Settings Do Certified Nurse-Midwives Work In?
As a Certified Nurse-Midwife (CNM), you will be trained to work in both midwifery and also in nursing. Because of this, you can work in a variety of different public and private healthcare settings where women seek routine or family planning care, according to Explore Health Careers. Some of the settings that you can work in include: private physician practices, universities, military hospitals, birth centers, clinics, hospitals, or through in-home firms where you will perform home deliveries.
What Are the Roles and Responsibilities of CNM's?
As a CNM, you will be responsible for providing a wide range of services to women throughout their reproductive lives. In addition to performing routine gynecological checkups, a CNM will also provide support during the preconception stage, services throughout a patient's pregnancy, childbirth services in the setting that the patient prefers, postpartum care, and per or post-menopausal care. These advanced practice nurses work in service clinical settings and specialize in primary care along with preventative care. If a patient is diagnosed with a medical condition, the CNM may set up a treatment plan or refer them to a specialist if necessary.
How to Become a CNM
If offering reproductive services interests you and you are trying to decide on a nursing specialty, you will need to learn what it takes to get certified. The very first step will be to complete an acceptable undergraduate program so that you can sit for the National Licensure Exam and test to become an RN. It is recommended that you take a Bachelor of Science in Nursing program to meet the prerequisites to enter a graduate program.
Once you are an RN, you will need to advance your education and enroll in a Nurse Midwifery program that is accredited through the American College of Nurse-Midwives. To meet the certification requirements, you must have the applicable experience and also complete the programs required. You will then pay an examination fee and be asked to submit a copy of your license, so that you can take the CNM examination. Once you pass this exam, you will be able to apply for positions that are held for certified specialists.
Related Resource: ICU Nurse
The demand for CNM's is projected to grow by as much as 29% by the year 2022 according to the Bureau of Labor Statistics. If you want to pursue a nursing position where there is rigorous growth in demand and where you can use your passion for women's health, this could be a great area of nursing to study for. Make sure that you understand just what a nurse midwife does and decide for yourself if you are a good fit.