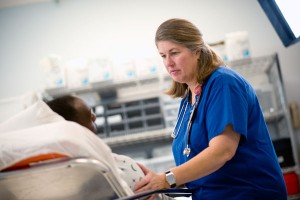 Many pre-med students wonder what certifications are needed to be an emergency room nurse. Fortunately, there are very specific resources that provide the necessary certifications.
What is Emergency Nursing?
Emergency nursing is a broad health care specialization that encompasses all aspects of emergency medical care. Emergency nurses treat patient experiencing injuries or trauma. They must immediately stabilize patients, minimize pain, diagnose medical conditions and treat life-threatening health problems.
Where Do Emergency Room Nurses Work?
Emergency room nurses predominately work in hospital emergency departments. However, they also work in poison control, crisis intervention and emergent care centers. Emergency room nurses also work in ambulances or flight nursing in helicopters or airlines. They are also found in the military, correctional facilities and government agencies.
What are the Educations Requirements?
For starters, students must obtain their Associate of Science in Nursing (ASN) or Bachelor of Science in Nursing (BSN). The ASN degree will prepare students for entry-level nursing positions. The curriculum will cover basic topics, such as biology, anatomy, nutrition and physiology. It will also cover key courses, such as nursing fundamentals, emergency care and medical-surgical nursing. A BSN degree will include advanced subjects, such as evidence-based practices, public health and senior leadership. After graduation, the student must then pass the National Council Licensure Examination (NCLEX-RN) to obtain their RN license.
What are the Basic Certifications Requirements?
Students that want to learn about what certifications are needed to be an Emergency Room Nurse should start  with the National Council of State Boards of Nursing (NCSBN). They are the national certifier of registered nurses. Students must first obtain an Authorization to Test (ATT) through their state board of nursing organization. NCLEX-RN exams are provided through Pearson VUE, which offers computer-based exams known as Computerized Adaptive Testing (CAT). Once the student passes the test, they must then work at least two years before they can apply for emergency nursing certification through the Board of Certification for Emergency Nursing (BCEN).
The Board of Certification for Emergency Nursing?
The BCEN offers different emergency nurse certifications, such as a certified emergency nurse (CEN), certified flight registered nurse (CFRN), certified pediatric emergency nurse (CPEN) and critical care ground transport (CTRN) nursing. The CEN exam is the basic certification for emergency nurses. The CFRN is for nurses who want to work in either ground or air critical care environments. However, the CTRN is only for nurses who will work in ground transport nursing. The CPEN is designed for nurses who wish to work with pediatric patients. To illustrate, the CPEN exam is divided into six key areas: triage process, assessment, technical skills, medical conditions, surgical procedures and special considerations. The BCEN now offers a new test, the Trauma Certified Registered Nurse (TCRN) exam for trauma nursing.
How to Prepare
Medical students who wish to become an emergency nurses should obtain additional credentials through attending Advanced Cardiac Life Support and Pediatric Advanced Life Support classes. They can also read emergency nursing publications, such as the Journal of Emergency Nursing, and join the Emergency Nurses Association (ENA). The ENA offers publications, conferences and educational opportunities. Students should consider volunteering in order to develop their assessment, IV access and ECG and EKG interpretation skills.
Related Resource: Gerontology Nurse
To recapitulate, the basic certifications required to be an emergency room nurse are the NCLEX-RN and BCEN sponsored exams.