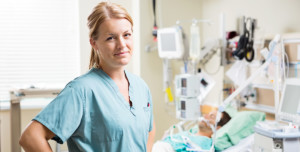 Intensive care nurses work in a number of different medical facilities and have a high level of experience, but you may not need a Master's in nursing to be an ICU nurse. The level of experience and education required for the job often depends on the facility where you work and the regulations that facility has in place. Before applying to graduate school, you may want to look into the requirements and daily tasks of the job.
Minimum College Degree
According to the American Association of Critical-Care Nurses, the minimum license required for the job is an RN license. To obtain that license, you must have either a bachelor's or an associate's degree in nursing and a nursing license in your state. Getting your license usually requires that you pass a national licensing exam and a background check. Some employers may ask that you finish your graduate degree before you work in an ICU ward or in a critical care facility. Other employers require critical care nursing certification of nurses. You'll generally need a few years of experience working in the field before you apply for that certification.
Experience Required
In addition to a degree, you usually need some experience before working in an ICU. Many hospitals today will not hire recent graduates to work on those floors. While you can work as a nurse in a hospital, you'll generally need to spend at least two years working on other floors before you can transition to the ICU. Though you may not need a Master's in nursing to be an ICU nurse, some employers will accept that degree in lieu of experience. You may also have the chance to gain some clinical experience while in graduate school.
Where They Work
Though students often think that ICU nurses only work in hospitals, they can work in any type of facility that offers critical care services. An Intensive Care Unit in a hospital helps patients recover from serious injuries, diseases and medical conditions. They might take vital signs, administer medications or help patients with their personal hygiene. Any medical facility that has an ICU can hire critical care nurses. You might find work in a retirement home, in a pediatric facility or in a hospice. Hospice facilities typically help patients recover until they can go back home or provide patients with a safe and comfortable place to spend their last days.
Advanced College
Going to graduate school has some benefits for nurses. If you hope to work in an administrative field, you will want to go to grad school. This gives you the chance to take courses on budgeting, medical laws and human resources. While you will complete a clinical rotation at the undergraduate level, you'll have the opportunity to take a more in-depth rotation at the graduate level. Many programs require that students spend a minimum of one semester up to one year working in the field before graduating.
Critical care nurses are nurses who work in ICU units in hospitals and other facilities. They provide support and medical care for patients who cannot care for themselves. Whether you need a Master's in nursing to be an ICU nurse depends on the facility where you work and whether that facility requires more education or more experience for its nurses.