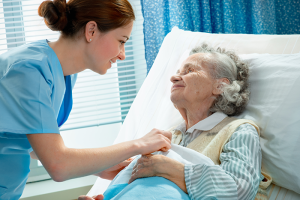 Hospice care is unique because it focuses on helping patients live as comfortably as possible so that they can live their lives to the fullest once they have stopped treatment for a critical illness. If you are considering entering the field of nursing, you may want to become a hospice nurse so that you can help patients and families through the most difficult times of their lives. With demand for hospice care nurses on the rise, there has never been a better time to study to enter this field.
The First Step to Becoming a Hospice Nurse
A hospice nurse is a nursing professional specializing in all parts of palliative care and must first become a registered nurse. If you are not yet a registered nurse and you have not completed a nursing degree program, your first step will be to enter a Bachelor of Science in Nursing program so that you can earn your BSN and then apply to take your state's Registered Nurse Exam. As you study to become an RN, you will learn in a classroom setting and a clinical setting. When you complete your clinicals and your rotations, request to be placed in the hospice setting to determine if this is really what you want to work towards. Hospice care requires patience and a spiritual philosophical view, and is not a right fit for everyone.
Gain Experience as an Entry-Level RN
It is not common to be offered a position in hospice career as a new graduate. Once you earn your BSN and pass your state licensing exam, you will need to earn the experience that is necessary to move up and enter the field of palliative and hospice care nursing. Most facilities where hospice care services are offered will require that nurses have at least 1 year of experience in acute care. This will help you gain experience with pain management, reading vital signs, and health assessment. You will also develop analytical skills so that you can make quick decisions when a patient's condition changes.
Other Skills You Will Need
Some hospice nurses will work in a home setting and others will work in a facility designed to deliver only hospice care. When you are interviewing to become a hospice nurse, it is important to familiarize yourself with the qualities that recruiters are looking for. Here are some qualities you need to posses:
Communication Skills
You will be working directly with patients and communicating the patient's progress with both doctors and family. You must be able to listen to family and listen to a patient, and then communicate effectively so that you can put everyone at ease.
Coping With Emotional Stress
You must be a very strong person emotionally to be a hospice care nurse. You need to show you have a strong character and that you can cope with the stress you deal with on a daily basis.
With a growing population of aging baby boomers, the demand for hospice care nurses is only expected to grow. With the number of hospice programs in the US jumping from 5000 in 2011 to 6000 in 2012, finding a position in this industry is easier than others. Take advantage of the growing demand while it is high, and start studying to become a hospice care nurse.