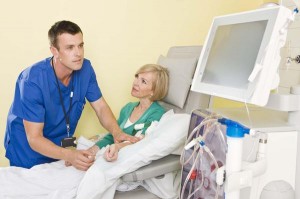 If you would like to be a nursing specialist in a branch of medicine that is extremely important, but often overlooked, it is time to learn how to specialize a nursing degree in nephrology. Nephrology is a branch of medicine where the focus is entirely on the kidneys, how they filter toxins out of the body and health problems associated with these vital organs.
When you complete specialized coursework in this area of medicine and you become a nephrology nurse, you will work directly with patients who have medical conditions that affect their kidneys and how they function. Read on and learn more about your role in this branch of nursing and also what you must do to become a specialist.
What Are the Roles of the Nephrology Nurse?
Generalist nurses play an important role in all settings, but nephrology nurses are specialists who play a crucial role in assessing patients, educating families, diagnosing kidney-related conditions, and treating patients with these conditions. When you are certified in this specialty area, you will be the first clinical professional that patients come into contact with for assessment, according to Nurse Without Borders.
You may also be a part of the diagnostic stage, where you could take images and look into a patient's medical history. Once there is a diagnosis, you will help the patient and their family understand their condition and what steps will be involved in treatment. Since dialysis is such a vital stage in treatment of kidney-related conditions, you will need to fully knowledge in dialysis and how to operate these medical machines.
How to Specialize Your Nursing Education to Work in Nephrology?
The first step to become a nursing professional with a specialist in nephrology is to complete a Bachelor of Science in Nursing program so that you are ready to take the NCLEX-RN exam for your licensure. Once you are a licensed RN, you will then need to work for two years as clinical nurse where you can acquire at least 3000 hours of experience with nephrology patients, according to the Nephrology Nursing Certification Commission. This is a requirement to sit for your certification exam to become a Certified Nephrology Nurse, according to Johnson and Johnson Nursing.
What Type of Advanced Degree Program Should You Select?
While you do not necessarily need your graduate degree to get certified, you can also benefit from enrolling in a Master's of Science program. When you take a master's degree program majoring in nursing so that you can take electives that will expand your knowledge base. Some of the classes that you should select as you study to become a clinical nurse specialist include: hemodialysis, renal replacement therapy, kidney disease care, and more. It is best to choose a Clinical Specialist degree program with a specialization in nephrology so that you are able to cover all of the important content, according to the American Nephrology Nurses' Association.
Related Resource: Cardiac Care Nurse
Nephrology is an area of medicine that is starting to get a lot more attention. Since this area of medicine is growing, the need for specialized nurses is proportionately growing. If you become a nephrology nurse, you can choose sub-specialty areas like: transplantation, conservative management, extracorporeal therapies, hemodialysis, and renal replacement therapy. Make sure that you take the time to brush up on job outlook and settings that you can work in so that you can decide if you want to specialize a nursing degree in nephrology.