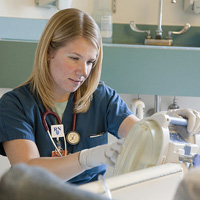 If you would like to advance your nursing career and earn a higher salary in the process, you may want to specialize a nursing degree in cardiac care. Cardiac care nurses play an important role in caring for and treating patients who suffer from heart conditions and various degrees of heart disease that range in age. If you are qualified to work as a cardiac care specialist, you can work in intensive care units, rehab centers, coronary care units, ambulatory settings and also in surgical centers, according to Johnson and Johnson Nursing. If this sounds like the type of career that you would like to pursue, read on and find out how to become a specialist.
Earn Your Undergraduate Nursing Degree
The first step to specializing in coronary care is to earn your general nursing degree so that you are qualified to become a licensed registered nurse. You can either earn a two-year degree in nursing or spend an additional two years to earn your bachelor's so that you are prepared for advanced degree programs. While you do not need a graduate degree to specialize in cardiac care, it can be helpful when you are competing for openings.
Get Licensed and Get Experience in a Clinical Setting
After you earn your degree, you will need to schedule a test date to take the National Council Licensure Exam so that you can practice in your state. When you get licensed, you will need to gain experience so that you can get certified. The certification board requires that you have two years of experience in nursing and no less than 2000 hours of experience in cardiovascular nursing.
Complete Cardiovascular Nursing Courses to Get Certified
To be a specialist, you need to get certified by the American Nurses Credentialing Center. The Cardiac Vascular Nursing Certification will show that you have advanced knowledge in cardiac care and that you can provide stress evaluation tests, health assessments, care for patients who have just undergone surgery and vascular monitoring without being under direct supervision. Before you are eligible to hold your RN-BC credential in cardiac care, you need to complete at least 30 hours of continuing education in cardiac-vascular nursing, according to the American Nurses Credentialing Center.
Maintaining Your Credential
After you meet the experience and educational requirements, you will need to sit for a test and then maintain your credential by renewing every five years. In order to renew your credential, you must be able to show that you have committed yourself to professional development by completing the appropriate number of hours. You will also need to pay the renewal fee and submit your application at least eight weeks before the certification is up to expire. You must also be in good standing with the credentialing council.
Related Resource: Nurse Midwife
The demand for cardiac care nursing professionals is on the rise. According to the Center for Disease Control, the leading cause of death in the United States is heart disease. Since more than 80 million Americans suffer from various types of cardiovascular conditions, the demand for cardiac care nurses is on the rise. If you would like to work closely with those who are prone to heart disease and those who are going through a surgical procedure, it is time to specialize a nursing degree in cardiac care so that you can land yourself a position in a surgical or ambulatory setting.