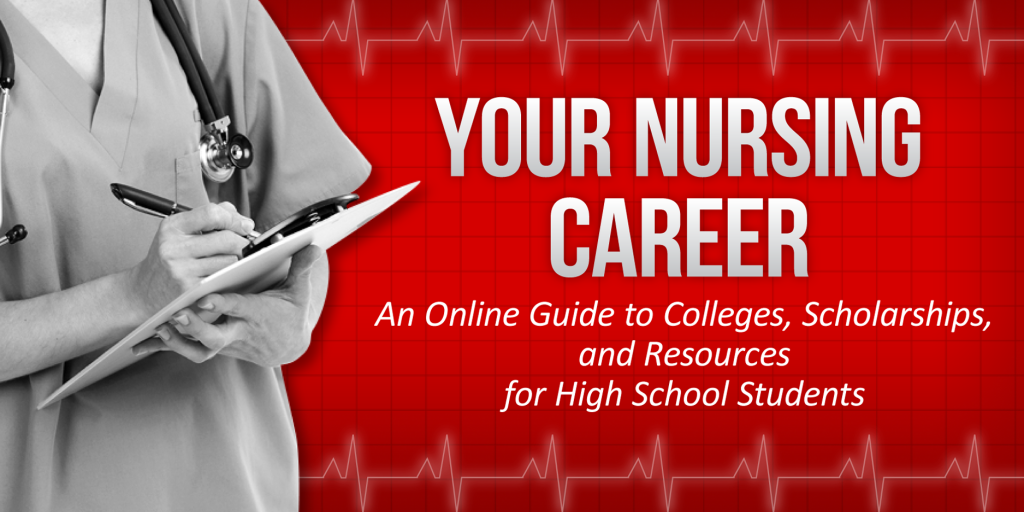 By Brenda Rufener
The road to becoming a nurse is paved in hard work, discipline, and dedication. But, at the end of the path is a reward perhaps unlike you will find in any other career. Making a difference in someone else's life while presenting them with hope is just one of the benefits in becoming a nurse. According to the Health Resources and Services Administration, job opportunities abound for the right people pursuing a nursing career. Excellent wages, flexible schedules, and tremendous opportunity await qualified nurses who want to spend their lives helping others.
Table of Contents
1: How Do I Know if I Should Become a Nurse?
2: What Do Nurses Do?
3: How to Prepare in High School to Study Nursing?
4: The Top Ten Nursing Schools
5: Top 10 Nursing Scholarships
6: Education and Degree Options in Nursing
7: Top 5 Most Popular Nursing Field Specialties
8: Nursing Trends and the Workforce

Do you enjoy working with people? Are you interested in science and health? Do you want a challenging yet rewarding career that requires continual education and demands responsibility? If so, nursing may be the career for you.
The field of nursing combines science, health, technology, and even psychology to provide care for those in need. Nurses tend to patients' physical, emotional, social, and psychological needs. The state of healthcare is complex and requires nurses to provide care within an ever-changing discipline.
If you are considering a nursing career, be clear on why you find the job appealing. The nursing field is rewarding, both monetarily and emotionally, but it is also hard work. This guide is prepared to educate you about the nursing profession and assist you in identifying the path that is right for you.

In general, a nurse assesses patient health problems and develops a nursing care plan. Nurses implement the care plan to ensure a patient's healthcare needs are met. The nurse is in charge of maintaining medical records and communicating with the treating physician to ensure efficient updates are provided.
Registered nurses provide care and coordinate ongoing and future care for patients. They educate patients and family members about health conditions, offer emotional support, and relay information to doctors and other healthcare specialists. On a daily basis, a nurse might operate medical equipment, set up patient care plans, record observations, and perform diagnostic tests.
Nurses work in teams, in team-oriented work environments. A nurse is a critical part of a highly organized team of healthcare workers and specialists. Some nurses manage others (registered nurses and nurse practitioners) while some assist other nurses with duties (nursing assistants and licensed practical nurses). The role of the nurse is always changing. Nurses are highly flexible due to the ongoing changes in technology and proper protocol in hospitals and medical facilities. Nurses spend a majority of their time teaching others while learning on the job. Shifts are long, but never mundane.

If you are considering nursing in the future, you are pursuing a rewarding and stable career choice. Opportunities abound for nursing students, but the career choice can be both exciting and daunting. Preparation is critical to the success of a nursing student and working nurse, no matter what field of nursing you pursue.
Education
Preparing for your future starts in high school, if not earlier. While you may not have paid much attention to your freshman algebra class, a refresher course may be needed if you plan to go into nursing. Did you know that a nurse uses algebra on a daily basis when calculating medication dosages?
Helpful courses to take in high school prepare for college and the nursing field. Since competition is fierce for some of the top-ranked nursing schools, you must do well in your college classes. There is little room for error and no room for failure. Coursework in high school helps prepare for college classes. Coursework should include English and language arts, biology, chemistry, physics, algebra, geometry, and calculus. The more math and science you expose yourself to in high school the better prepared you will be for nursing prerequisites in college. Many college advisors recommend advanced placement (AP) courses when possible. AP Biology, AP Chemistry, AP English, and AP Foreign Languages are all recommended. If your school offers anatomy and physiology, it is highly beneficial to take.
Remember that your grade point average (GPA) matters in high school. The better you perform the more likely you are to get into the college of your choice. Nursing programs are highly competitive and rigorous in study. This means that your organizational and study skills are essential to your performance. If you have trouble with time management or effectively studying, seek help from your high school counselor or tutor. The earlier you tackle your weak skills or habits, the more likely you will be to flip them into strengths while in college. It is never too early to prepare for your future.
Volunteer Work
Volunteer work sets you apart from students who have exclusively focused on bookwork. Volunteering provides hands-on, behind-the-scenes experience in the nursing field. Not only do you gain insightful experience but you also are able to examine the field to ensure it is a good fit for you. Volunteer experience helps you make the right career choice by offering a closer look at nursing.
Volunteer opportunities may exist in local hospitals, extended care facilities, or even nursing homes. Volunteers work closely with on-staff nurses and healthcare workers, providing patient care in a wide variety of ways. From delivering meals in a hospital to filing medical records, you will gain valuable experience for your college and scholarship applications or future employers.
Letters of Recommendation
The application process for nursing school includes the requirement that people speak on your behalf by supplying letters of recommendation. Even during your high school years, you should build rapport with teachers and health care professionals who can attest to your work and dedication to the nursing field. Many schools require a letter of recommendation from a science teacher. Be sure to get your request in early because many teachers, professors, and healthcare professionals are busy people, often asked by many students to draft the highly coveted recommendation letter.

According to USA Today and College Factual, the top 10 nursing schools are ranked on a variety of factors, including major quality ranking, graduation rates, and graduates among the top earners of their field after graduation. The top 10 nursing school rankings based off the 2015 list includes:
1. Columbia University
2. New York University
3. Georgetown University
4. Molloy College
5. University of Pennsylvania
6. University of California – Los Angeles
7. Johns Hopkins University
8. Simmons College
9. Drexel University
10. Quinnipiac University
Prospective students should always research the schools of their choice by visiting the campus, speaking with faculty, and discussing course curriculum and requirements with current students or alumni. Taking the time to find out which college or university best suits your interest and career goals impacts your success as a nurse.

A nursing degree is a great way to start a stable career in a rewarding and stable work environment. However, as college tuition continues to increase, investing in the education required for a nursing degree does not come cheap. To offset the cost of tuition and fees associated with obtaining a nursing degree an abundance of helpful scholarships for high-achieving students in need of financial relief are available. Below are ten nursing scholarships for undergraduate and graduate nursing students to consider.
The Foundation of National Student Nurses' Association (FNSNA) offers a total of $330,000 annually in awards of $1,000 to $5,000 to eligible nursing students in pursuit of a pre-nursing degree, baccalaureate, diploma, general master's degree, or general doctorate. Awards are based on academic achievement, financial need, and the student's involvement and participation in Johnson & Johnson sponsored events.
2. Bachelor's in Nursing Degree Scholarship
Supported by the Oncology Nursing Certification Corporation (ONS Foundation), the scholarship is provided to nursing students who are interested in pursuing oncology nursing and a baccalaureate in nursing. Awards vary but are generally worth $2,000 and administered annually. Scholarship applicants may not already have a college degree or RN license.
3. March of Dimes Graduate Nursing Scholarship
In an effort to reward students who promote excellence in nursing care of mothers and babies, the March of Dimes offers annual scholarships in the amount of $5,000 to students enrolled in graduate nursing programs. Eligibility includes academic achievement, a strong focus on maternal-child nursing, and a registered nurse license.
Minority Nurse magazine and NCEMNA have teamed up to offer an annual nursing scholarship for underrepresented groups who complete work toward a Bachelor or Master of Science in Nursing. Multiple awards are given, including two annual $1,000 awards and one $3,000 award. Students must be a minority in the nursing profession to be eligible for the scholarship. High academic achievement is required.
5. National Black Nurses Association Scholarship
The National Black Nurses Association (NBNA) sponsors a scholarship program for African American students enrolled in Bachelor of Science in Nursing, Diploma, and LPN programs. Scholarships vary in size and range from $500 to $2,000 annually. Applicants must be a member of the NBNA, have completed at least one year of nursing training in a credentialed program, and participate in college nursing activities. Academic achievement is also carefully examined.
6. American Indian Nurse Scholarship
Started by the National Society in 1927, the American Indian Nurse Scholarship Award Program provides students of American Indian descent with financial relief when pursuing nursing careers. Students must complete the application to become eligible for the $1,000 annual award. In order to be eligible, students must be at least one-quarter American Indian and be enrolled in a tribe.
7. TYLENOL Future Care Scholarship
Every year the makers of Tylenol award high-achieving and well-deserving students pursuing healthcare careers. Award sizes vary but a total of over eight million dollars in twenty-three years has been awarded to students who dedicate their lives to the lifetime care for others. Scholarship award decisions are made by July with distribution of funds in August.
8. Nurse Practitioner Health Foundation Scholarship
A variety of scholarship awards ranging from $1,000 to $5,000 are offered annually to students who are enrolled in a Nurse Practitioner program. The Nurse Practitioner Health Foundation Scholarship is designed to recognize outstanding nursing students who display academic achievement, outstanding research, and leadership skills.
9. NURSE Corps Scholarship Program
The NURSE Corps Scholarship Program helps students pay for tuition, fees, and associated educational costs while providing a monthly living stipend. Students enrolled in a diploma, associate, baccalaureate, or graduate nursing program are eligible. This highly selective program offered by the U.S. Government helps alleviate critical shortages of nurses working in certain areas of health care. Upon graduation, the recipient works at a facility for at least two years, earning a competitive salary and benefits as part of the agreement for receiving the initial scholarship award.
10. Senior Care Innovation Scholarship
The annual scholarship award is given to five students enrolled in an associate's degree, bachelor's degree, or graduate level program in medical, nursing, or social sciences. The caveat is that the student must intend on pursuing a career that focuses on the care of senior citizens. The award is $1,000 offered annually to qualified candidates. Volunteer work with senior citizens is a critical component of the application.
For more scholarship information visit the American Association of Colleges of Nursing website.

There are a number of programs and educational options for nursing students. Before you attend college, you must decide which program is best suited for you and your career goals. Programs are flexible and allow you to move from one to another with ease, as long as requirements are met.
Licensed Practical Nurse (LPN)
To become an LPN you must attend a licensed practical nursing program, which typically takes 12 to 18 months to complete. LPN coursework includes mathematics, anatomy and physiology, medical terminology, and pharmacology. Admission to an LPN program is highly competitive, thus GPA and performance are critical. Graduates are eligible to take the National Council Licensure Examination for Practical Nurses (NCLEX-PN). This exam must be passed to receive licensure as an LPN.
Associate of Science in Nursing
Two years in school is typically what is required of an Associate degree in nursing. Community colleges often offer this degree program that is ideal for a student who wants to become a registered nurse and earn money sooner than a four-year BSN degree program allows.
Registered Nursing (RN)
To become an RN, a student must attend college. The nursing program is rigorous with emphasis on chemistry, microbiology, anatomy, physiology, math, and communication skills. There are two degree options: The Associate's degree and the Baccalaureate degree. See below for information on the BSN degree program option.
Bachelor of Science in Nursing (BSN)
The BSN requires completion of a baccalaureate degree program, which typically takes four years at a college or university. The student will become an RN while obtaining their Bachelor's degree. This is the perfect path for those looking to pursue advanced degrees in nursing, such as the MSN or doctorate degree program.
Accelerated Bachelor of Science in Nursing
Accelerated Bachelor of Science degrees in nursing are offered at many colleges and universities and allow students who already possess a bachelor's degree in another discipline to move forward through the nursing program. Nursing requirements must be fulfilled but coursework for the foundational bachelor's degree is considered already completed.
RN to BSN Program
Considered to be a bridge program, an RN to BSN degree allows registered nurses with associate degrees or diploma programs to complete their Bachelor of Science degree in Nursing. Candidates do not have to go through the entire BSN program from the beginning, but are able to save time and money by pursuing the RN to BSN route. The typical program takes two years to complete. The BSN program offers eligibility to supervisory positions and competitive salaries that are above the typical RN salary. If you plan to pursue a master's degree in nursing, a BSN is required.
Master of Science in Nursing (MSN)
The MSN program allows nurses to specialize in a particular area of interest in nursing, such as research or advanced clinical training. The traditional route to an MSN degree requires 18 to 24 months in addition to the already-earned BSN. If you are a nurse working on a tight schedule, flexible schooling options are needed. Many Master of Science degree programs work with nurses who require evening and weekend schedules. Online programs are also available.
Doctorate Nursing Degrees
A Doctorate of Nursing Education or Doctorate of Nursing Practice typically takes three to five years of full time study in addition to the already earned MSN. Extensive research is required to complete the program. Although essential time is required, including year-round studies, most doctorate programs in nursing are designed with working nurses in mind.
The Nursing License
All states require registered nurses to have a nursing license in order to work with patients. To become licenses, nurses must graduate from an approved program and pass the National Council Licensure Examination (NCLEX-RN). Other licensing requirements may vary by state. To find out the exact requirements detailed by your state, visit the National Council of State Boards of Nursing.

No matter which field of nursing you choose the reward is fulfilling, both emotionally and economically. If job security and stable compensation is at the top of your list of deciding factors, the following list will assist you in choosing a field that best suits you.
The following nursing specialties are based on annual salary, industry demand, and project growth over the next decade. These nursing roles are some of the highest paid in the field, making them the most popular. They also require the most training and education, based on the high compensation and reward.
1. Certified Registered Nurse Anesthetist (CRNA)
Average Annual Salary: $144,000 – $165,000
Certified Registered Nurse Anesthetists (CRNAs) work closely with all types of physicians, including surgeons, anesthesiologists, and dentists. A CRNA administers every type of anesthetic in a wide variety of work environments, from operating rooms to pain management facilities. The CRNA is an advanced practice nurse who provides anesthetics for surgery, obstetric care, and emergent or trauma work within the healthcare field. The position of a CRNA is highly compensated based on the required training and autonomy the nurse acquires.
2. Psychiatric Nurse Practitioner
Average Annual Salary: $95,000
The psychiatric nurse practitioner is a specialized nurse who provides consultation and care to patients suffering from psychiatric disorders or mental health conditions. Treatment may require assessment and care for patients suffering from depression, bipolar disorder, schizophrenia, or grief. These highly specialized nurses are training in the area of behavioral health and therapy. The nurse is able to teach the patient and their loved one how to handle the challenges associated with a specific disorder. Psychiatric nurses work with all ages and patient demographics. The job requires the nurse be a part of a multidisciplinary team, often working in liaison with psychiatrists, occupational therapists, general practitioners, and social workers.
3. Certified Nurse Midwife
Average Annual Salary: $84,000
Certified nurse midwives act as the primary care physician for expectant women who do not require a doctor's care. This means that the patient is healthy enough to withstand childbirth without being at risk of complications or childbirth problems. The midwife serves as both physical and emotion support throughout the pregnancy and during and after childbirth. Midwives provide prenatal care, consisting of gynecological examinations, labor and deliver assistance, and neonatal care. A midwife must be certified with the American College of Nurse-Midwives in the United States. According to statistics, a midwife delivers one in ten babies born in the U.S.
4. Orthopedic Nurse
Average Annual Salary: $81,000
An orthopedic nurse is a highly specialized nurse who provides patient care for those who suffer from musculoskeletal issues. These nurses often work alongside orthopedic surgeons, providing patient education, preparing treatment plans following surgery, and aiding in treatment of conditions such as arthritis or diabetes. Orthopedic nurses receive extensive training in casting, traction, neurovascular status monitoring, and continuous passive motion therapy.
5. Nurse Practitioner
Average Annual Salary: $80,000
A nurse practitioner (NP) is an advanced practice registered nurse who often works with autonomy or in the office of a specialty care provider. Nurse practitioners are qualified to provide basic care and treat preventive health problems. On a day-to-day basis a nurse practitioner may perform physical examinations, diagnose and treat acute illnesses or injuries, manage immunizations, interpret diagnostic tests, and prescribe medications and therapies. Nurse practitioners may work out of their own office, treating patients, or work under a general practitioner. Requirements vary per state.

According to the U.S. Nursing Workforce: Trends in Supply and Education (October 2013), there were 2.8 million RNs and 690,000 LPNs in the field of nursing or those seeking employment between the years 2008 and 2010. In the last ten years the nursing workforce skyrocketed with a 24 percent increase in the number of RNs and 16 percent in the number of LPSs. The growth in the nursing workforce outpaced the growth in the population of the United States.
The Bureau of Labor Statistics reports that the job outlook for registered nurses is highly favorable. Projected growth of registered nurses is expected to increase by 19 percent from the years 2012 to 2022. The nursing field is the fastest growing occupation.
So, why the growth? The demand in healthcare services is expected to increase because of the aging population. Older people typically require more health and medical care than younger people. As the population ages, more medical care will be required. Nurses who are educated in specific health problems and conditions, such as arthritis, dementia, diabetes, and obesity will be in demand. Also, as a result of the federal health insurance reform, more people are seeking medical care. Clinics and hospitals are seeing an increase in the number of patients and as a result require a larger nursing staff.
Due to the increase in patients, hospitals will experience financial pressures to discharge patients as soon as possible. This will impact long-term care facilities, outpatient care centers, and home healthcare needs. Job growth in these areas will increase. Nursing staff demands will increase in facilities that treat stroke injuries, Alzheimer's disease, and other age-related problems.
Job opportunities for registered nurses, as well as other nursing careers are expected to be highly favorable. Registered nurses who hold at least a bachelor's degree in nursing (BSN) will have better job prospects than those without a degree. Due to competition, employers will seek degreed candidates to fill nursing positions over non-degreed or less than four-year degreed candidates. Those with work experience, or volunteer work, will be preferred.