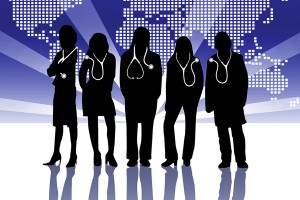 There are many significant jobs available with a Master of Nursing Leadership degree. Nurses who hold master's degrees in leadership have excellent career and salary prospects.
Operational Leaders
Clinical Nurse Leaders (CNL) focus on coordinating care for specific patient groups. These may be pediatric, trauma or oncology patients. They must also supervise nursing staff and daily clinical operations, such as patient care plans and assessments. Nurse managers have clear HR, financial and operational duties, according to the Bureau of Labor Statistics. This means that they must recruit new nurses, maintain medical files and balance departmental budgets. Nurse administrators are head nurses who supervise office staff, mentor new nurses and make policy and procedural change recommendations. Some nurse administrators also perform all relevant managerial duties, such as nursing home administrators.
Education Positions
There are also teaching positions available outside the health care environment for nurse leaders. Due to the fact that the demand for highly trained nurses in exponentially rising, there is a growing demand for post-secondary nurse instructors. These educational professionals may work as nursing professors, clinical nursing instructors and academic administrators. In classrooms, these nurses teach and demonstrate the skills and techniques needed to provide competent patient care. In the office, academic administrators coordinate with health care organizations and regulatory agencies to ensure compliance and set up internships. Some nursing leaders also work as clinical researchers in university settings.
Health Information Manager
These IT professionals maintain the security, accuracy and accessibility of patient medical records. The demand for health information managers is rapidly growing because of new health care regulations that require health care organizations to upgrade to digital medical records and increase security functionality. Health information managers must have a strong understanding of medical, billing and insurance coding terminologies. Many health information mangers work with health informatics technicians to collect, process and analyze data for mandatory reports. Health information managers must stay up-to-date on recent legislative, software and process changes. Technically proficient nurses who have master's degrees in leadership may also work with software designers and engineers to maintain health care IT systems.
Employment Locations
A nurse who holds an MSN with leadership concentration may work in the different health care facilities. Those who work in surgical hospitals may find work as supervisors of advanced nursing teams assigned to maternity wards or emergency rooms. Home health care organizations need leaders to oversee travel nurses who visit patients in home settings or other health care facilities. Entrepreneurial nurses may also open up their own independent clinic and offer general or specialized services. Some nurses may simply want to work in physician offices as team leaders who can diagnose and prescribe treatment plans for patients. A small amount are employed by community-based, non-profit organizations and government agencies, such as the local Department of Veteran Affairs or Department Of Health And Human Services.
Related Resource: Top 15 Best Online Master's in Nursing (MSN) Leadership Degree
There are many more jobs available with a Master of Nursing Leadership degree, such as nurse executive, program supervisor, clinical director and chief nursing officer.