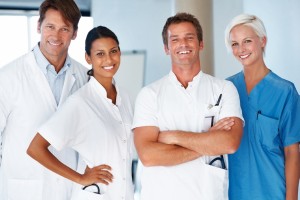 Being a Registered Nurse may be fulfilling to many in the field, but for the natural born leader it might be fitting to move up to a more administrative role titled nurse manager. A nurse administrator/manager are leaders who not only guide the nurses in their department, but also help to adopt new ideas and practices for the betterment of the facility or organization. Nurse managers wear several different hats and act as the middle-man who communicates with both staff and upper-level management. If you would like to learn what the role of the manager is and how to go about becoming one, read this job profile and find out what you need to know.
What is the Role of the Nurse Manager?
Nurse managers may be patient-facing professionals, but they also take a step back and work behind-the-scenes to both recruit and supervise nursing staff. Nursing managers do not just have one specific role. They are primarily responsible for overseeing the staff within the nursing department and retaining the professionals, but are also collaborators who will work with physicians and other medical doctors to provide the best care possible.
It is not out of the ordinary for the manager to assist patients and their family in certain situations when they are needed or requested. They can also manage the finances within the department, oversee papers and records, and help come up with innovative ideas that will spark change for the better within the organization.
What Does It Take To Become a Nursing Manager?
If you want to take on the responsibility of helping keep a fast-paced and multi-faceted environment structured, you will need to first become a Registered Nurse. It is hard to manage a workforce of professionals who are skilled in providing patient care when you have not yet done this yourself. When you are studying for your Bachelor of Science in Nursing, it is important that you consider minoring in business or healthcare management so that you can attain special administrative and leadership skills.
Once you hold your BSN, you will be eligible to test for your RN license and will then need to get nursing experience in a clinical setting. As an RN, you will need to study for a Master's of Science in Nursing or an MBA with a concentration on Healthcare Administration. This will prepare you for administrative duties so that you can work as a liaison between staff and physicians. With your graduate degree, you will be qualified to test to become a Certified Nurse Manager, according to Discover Nursing.
What is the Project Outlook in Nurse Management?
One thing that you must consider when you are trying to choose a nursing career path is growth and job stability. Since there is a critical shortage of RN's all throughout the globe, it is only reasonable to expect that there is a critical shortage of managers as well. The demand for nursing services is projected to grow by 30% within the next five years. Due to this fact alone, the job outlook for nursing managers is very positive.
Related Resource: Triage Nurse
You will need nursing skills and managerial skills to work alongside other talented nursing managers. To attain the skills you need, you will need to complete an undergraduate program and then an advanced graduate program. Be sure to learn what it takes to get certified as a nurse manager and then you can earn a higher salary range while you open up new paths.