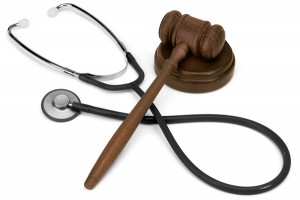 If you want to work as a registered nurse and use your expertise to provide advice and expert testimony in medical-legal cases, you may want to consider becoming a legal nurse consultant (LNC). Nurse consultants who work on legal cases play an important role in evaluating the standard of care, the cause of injuries or reasonable damages when a malpractice case is filed against a doctor, hospital, health professional or organization. Because these RN's apply the knowledge that they acquired through classroom and clinical training, they must be experts in medical literature, legal standards, and prior case outcomes. If this sounds like a field you would like to work in as a licensed nurse, read on and learn more about your duties and the steps you must take to get noticed as a consultant.
Where do Legal Nurse Consultants Work?
Legal nurse consultants play a variety of different roles in several different professional settings. Some of these settings include law firms, state agencies, insurance companies, healthcare facilities, forensics, patient or employee safety organizations, independent practices, legal departments and more. The role that the professional plays will depend upon the setting. A consultant can become a strategist, an analyst, a case manager, an educator, a researcher, or just a collaborator who contributes to a team in several ways.
What Does a Legal Nurse Consultant Do on a Daily Basis?
What you will do when you are an RN and legal consultant is based on the needs of your employer or your client. In a single day, you could interview clients, review medical records, analyze the medical records, create a timeline that summarizes the medical records, or conduct research on past cases. Consultants may also be responsible for identifying and then interviewing expert witnesses, educating attorneys, evaluating the causation of damages, attending the medical exams ordered by the court, or locating evidence. Because one day is not the same as another, this can be an extremely exciting field for the right candidate.
How to Become an LNC
To hold the LNC title, you will need to take the steps to become an RN. Once you are an RN, you will need to gain at least 5 years of general clinical experience in nursing. Once you get clinical experience, you can either begin to train in an LNC training program or specialize in an area of nursing first. Legal Nursing Consultant training will prepare you for investigations, trial preparation, medical-legal case research and more.
Be sure that the program that you enroll in is approved by the American Association of Legal Nurse Consultants so that you will meet the criteria to test for certification. Once you complete training and hold your certificate, you will be eligible to test for your LNCC certification.
LNCs play a very important role in the legal environment. They will work with lawyers, patients, physicians, and other players in a medical-legal case. As a profession that provides medical counsel on legal issues, you will need to be an expert on both legal and nursing information before you practice. Map out the route that you need to take to become a certified legal nurse consultant, and then you can find the right training.