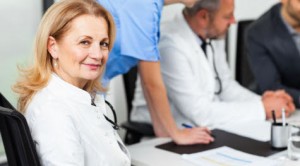 The health care industry offers a wide number of administrative positions for people with different personalities and skill sets, and you may be wondering about what a nurse administrator does. Nurse administrators, also referred to as head nurses or nurse managers, play an important role in managing the nursing staff at a medical facility. While they don't have as much direct contact with patients as a typical nurse, these professionals are responsible for making sure that nurses under their direction provide appropriate care to patients. In general, administrators within the medical field keep things running smoothly.
Everyday Responsibilities
According to the Houston Chronicle, the primary role of a nurse administrator is to oversee the nursing staff. Even small hospitals and medical facilities can employ dozens of nurses. In a business sense, nurse administrators act as department heads. They can hire and fire the regular nursing staff, conduct training sessions, counsel employees and take charge of the scheduling. Because these professionals are leaders, they also act as liaisons between the nursing staff and other areas of the medical facility. Despite the fact that they don't interact routinely with specific patients, nursing administrators do affect patient care because they oversee the regular nursing staff. They also recommend policy changes to make the department run more efficiently, and they typically take care of issues related to budgeting. As a result, patients benefit indirectly from a nursing administrator's decisions.
Training and Certification
Nursing administrators usually hold a master's degree in nursing with certification in administration. The American Organization of Nurse Executives offers a certification process designed exclusively for those who want to become nurse managers. Applicants must already be registered nurses and hold certain educational credentials in order to pursue managerial certification. While it's possible to become a nurse administrator with experience over education, it's recommended that nurses who want to advance their careers in this area earn at least a master's degree.
Aside from the educational and licensing requirements that nursing administration demands, this job position also requires several personal characteristics. Nurse administrators need to communicate effectively since they interact with upper management and an entire staff of nurses. They also need to be focused, effective multi-taskers and empathetic. Nurses already possess the basic traits necessary to work in a high-demand, high-pressure environment; administrators need these traits as well as strong leadership skills.
Salary Expectations
The U.S. Bureau of Labor Statistics classifies nurse administrators under the generic title of "medical and health services managers." These professionals earned a median salary of $88,580 in 2012. This figure represents a wide range of actual salaries since experience, education and location affect a person's pay. However, it's clear that health care administrators earn a very good salary and can expect ample job opportunities. The bureau reported job growth of 23 percent over the next decade, which is much faster than the average for other occupations.
Related Resource: Doctor of Nursing Practice
Large hospitals can employ hundreds of nurses, and it's important to make sure that the staff has procedures in place to manage the demands of the job. Nurse administrators streamline day-to-day operations among the nursing staff and coordinate with other departments to ensure that the medical facility operates effectively. If you're curious about what a nurse administrator does, then know that these professionals are responsible for taking care of patients, overseeing the nursing staff and performing key leadership tasks.