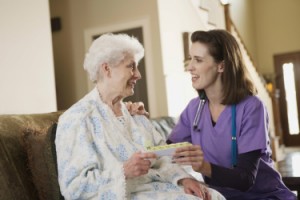 With a rising demand for nursing professionals who specialize in caring for patients with Alzheimer's, the choice to specialize a nursing degree in Alzheimer's could be one of the best career moves you could ever make for long-term job security. There are so many different specialized settings and practice areas that you can work in as a nursing professional. The key to choosing a specialty is to choose one that is projected to be in demand for quite some time.
Since there is a rapid rise in the older population that have been diagnosed with Alzheimer's disease, there is a proportionate rise in the demand for nursing specialists to work in these specialized care units, according to the Alzheimer's Association. For those who have a passion for helping individuals diagnosed with this disease, it is important to learn about the specialized path that you must take to work in a specialized unit instead of a traditional setting. Read this guide, and take the appropriate steps for the most direct path in specializing your education.
Earn Your BSN in a State-Approved Training Program
Before you can practice as a specialist, you need to earn your license. The very first step to getting licensed is to earn your 4-year Bachelor of Science degree majoring in nursing at a facility that is approved by the American Nurses Credentialing Center. Many students choose to earn a two-year degree to sit for the exam, but in the end having a four-year degree is necessary for other certifications and the specialist designation. This is why the most direct path will be to earn your BSN to become an RN who can get clinical experience.
Earning a Master of Science in Nursing With an Emphasis on Psychiatric Nursing
While getting clinical experience is very important, you will also need to advance your education before you can become a mental health nurse practitioner and specialist. There are plenty of focused advanced terminal degree programs within the nursing discipline that prepare specialists rather than generalists. Since these advanced programs do not just cover the foundation courses that brush nursing at the surface, it is critical to find the right program.
For those who want to learn about caring for patients with Alzheimer's in depth, taking a program majoring in Psychiatric Nursing or Mental Health Nursing is appropriate. This program lasts for two years when enrolled full-time and will focus on curriculum that typically includes: models and theories, psychopharmacology, neuroscience, population-based mental health care, the U.S. healthcare delivery system and more.
Get Certified as a Mental Health Nurse Practitioner
Once you have your graduate degree with a focus on Psychiatry, the next step will be to become board certified in psychiatric nursing through the American Nurses Credentialing Center. This certification is good for 5 years and all professionals will be required to complete continuing education to renew. Before you can become a PMHNP, you must have approved experience and must pass a certification exam. Check to see if you are eligible with your experience.
Related Resource: Oncology Nursing
Statistics published by the Alzheimer's Association show that 60% of nursing home and skilled care populations have the disease. If you would like to care for their patients who are often difficult to care for without special knowledge, it is time to specialize a nursing degree in Alzheimer's and other conditions like dementia.