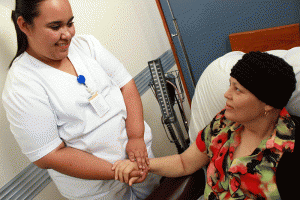 Only a bachelor's degree is required to become an oncology nurse, but nurses who go the extra distance in a master's program can unlock advanced practice nursing careers in oncology. At any level, oncology nurses are given the responsibility of providing compassionate care to patients diagnosed with or at risk for cancer. Daily duties in oncology nursing can include monitoring vital signs, administering chemotherapy or radiation, maintaining health records, offering cancer prevention counseling, and educating family members on cancer treatment. As one of the most challenging and rewarding nursing specialties, oncology is focused on making patients as comfortable as possible during their fight against cancer. The following is a step-by-step guide on the usual pathway taken for jobs in oncology nursing.
1. Obtain a Bachelor of Science in Nursing
While it's possible in several states to become a registered nurse by only earning a one-year diploma or two-year associate's degree in nursing (ADN), oncology nurses generally need a Bachelor of Science in Nursing (BSN) degree for specialization. By building on a well-rounded core, bachelor's programs provide more ample opportunities to build critical thinking skills and specialized clinical practice. Make certain that the BSN degree has been formally accredited by the CCNE or ACEN for learning excellence. If you've already earned an associate's, you should consider attending an accredited RN-to-BSN program.
2. Practice as a Registered Nurse
Next, you'll need to obtain licensure to legally practice as a registered nurse through your state's nursing board. Becoming an RN requires that you pass the National Council Licensure Exam (NCLEX-RN) with flying colors and obtain a proper nursing education. After you're licensed, you can begin working as a staff nurse to gain hands-on experience. It's advised that you apply for RN jobs in hospitals and outpatient care centers that have oncology departments. From general nursing care, you can then move into open positions providing cancer treatment.
3. Pursue Oncology Nursing Certification
Once you have at least 12 months of full-time nursing experience and at least 1,000 hours specifically in oncology nursing, you can pursue certification. The Oncology Nursing Certification Corporation (ONCC) offers a few options for oncology nurses to select from. Depending on your interests, you can become an Oncology Certified Nurse (OCN), Certified Pediatric Hematology Oncology Nurse (CPHON), Certified Breast Care Nurse (CBCN), or Blood and Marrow Transplant Certified Nurse (BMTCN). You'll be required to pass a three-hour test with 165 multiple choice questions assessing nine major subject areas in oncology.
4. Consider Advancing Your Career
Although it's not required to maintain certification, you may wish to consider advancing your career into APRN roles in oncology by acquiring a master's degree. Several universities across the United States offer Master of Science in Nursing (MSN) programs with oncology nursing specializations. Master's programs typically take two to three years of specialized coursework and clinical rotations related to cancer nursing. If you take this extra step, you can qualify to become an Advanced Oncology Certified Nurse Practitioner (AOCNP) or Advanced Oncology Clinical Nurse Specialist (AOCNS).
Overall, oncology nurses play an important role in our healthcare system by devoting their clinical practice to caring for patients battling cancer. A master's in nursing isn't required to become an oncology nurse, but choosing to continue your education beyond the baccalaureate level will lead to leadership positions with higher job stability and salary potential.