Published by Jamie Bond
Pediatrics is a vital specialty in healthcare as these patients require specific emotional and physical care to promote a healthy lifestyle as an adult. Pediatric nurses are often rewarded by positive outcomes but are also challenged emotionally while treating some of the sickest children with poor outcome potentials. Because healthcare is constantly expanding, it is vital for all providers to keep current on the treatment trends and options.
The following list of websites includes news/research, journals, blogs, associations, conferences, and certification.  These websites are useful for pediatric nurses who are seeking to further their knowledge base and network with their peers. The list includes websites that offer the most up to date healthcare research and news articles that nurses can utilize to build their knowledge base. Nursing journals allow these nurses to expand their awareness and expertise in the field of pediatric nursing while nursing associations specific to pediatrics allow nurses to obtain continuing education credits in their area of expertise while  Attending conferences and obtaining specialized certifications promotes nurses to excel in their field and highlights their abilities.
Research/News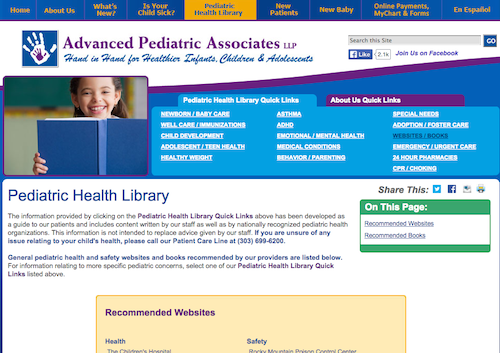 Advanced Pediatric Associates offers parents this useful resource full of recommended websites and literature.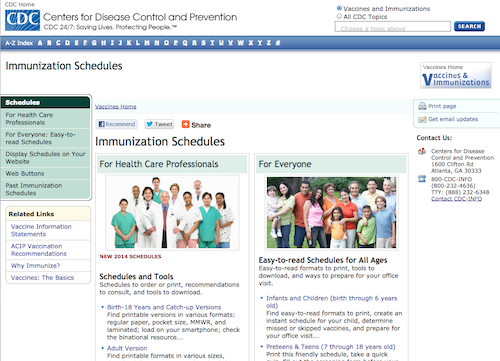 Pediatric nurses must be well versed on the recommended vaccination schedule as documented by the Centers for Disease Control.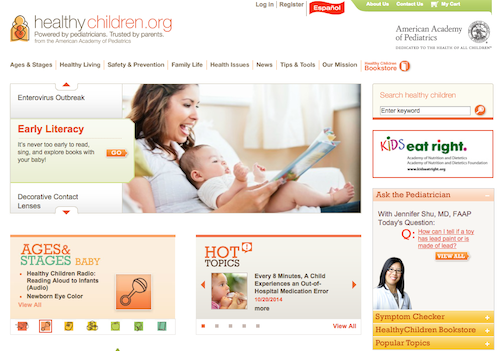 Sponsored by the American Academy of Pediatrics, this website offers a great deal of useful information for parents to reference through the years as their children age.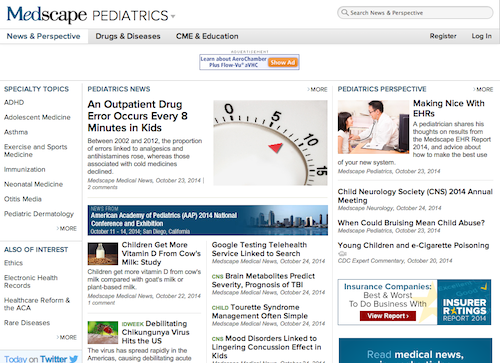 Medscape is a valuable resource for healthcare providers seeking easy access to evidence based research studies.
Nurse.com Pediatric News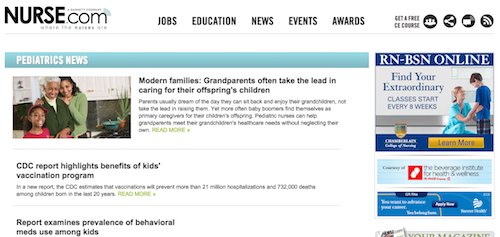 This website offers access to recent research findings and currents trends in treatment of pediatric patients.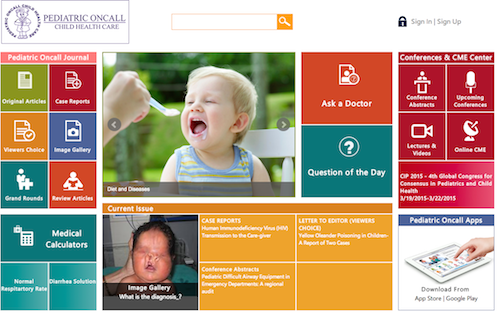 Pediatric OnCall is home to an array of medical information and educational tools as they apply to pediatric healthcare.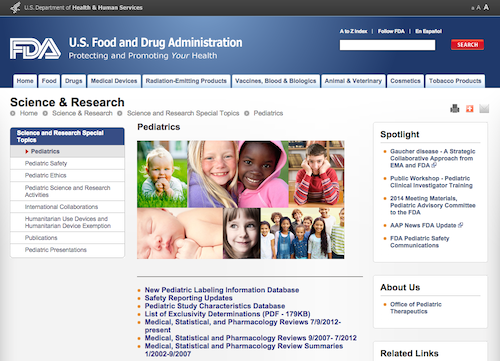 This division of the US Food and Drug Administration provides research, news, and pediatric safety alerts to healthcare providers and the general population.
Journals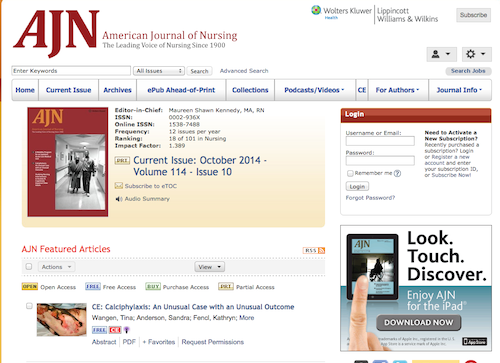 This renowned journal is the go-to resource for nurses seeking peer-reviewed articles on all topics nursing.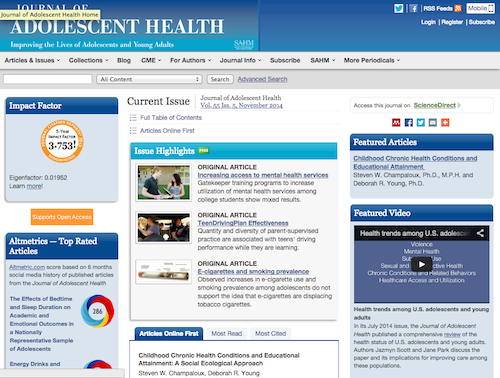 The official journal of the Society for Adolescent Health and Medicine, this journal seeks to uncover new research findings in the field of adolescent health.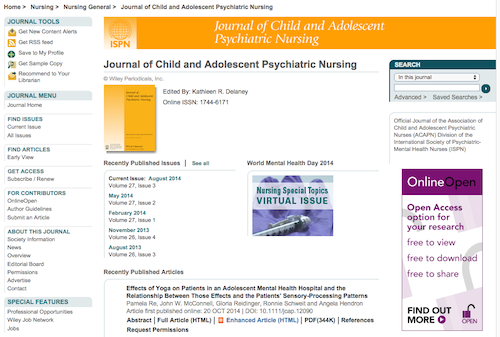 The Journal of Child and Adolescent Psychiatric Nursing is the sole journal to target pediatric mental health issues.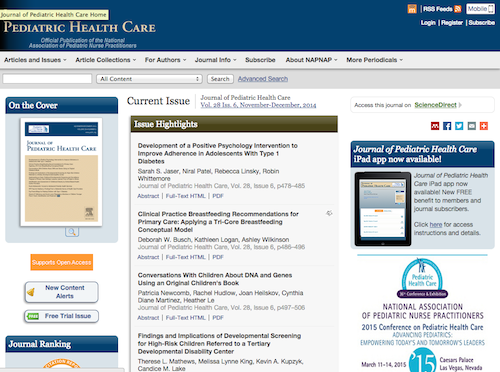 This journal presents scholarly clinical and research information pertaining to primary, acute, and specialty health in pediatrics.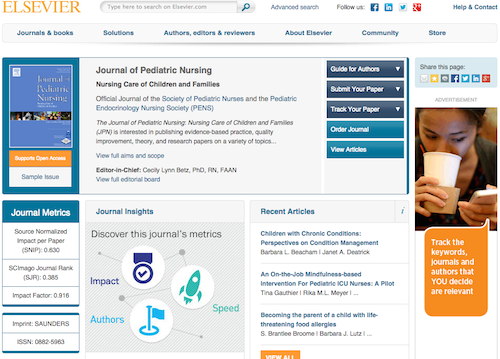 This journal publishes evidence-based research articles on a variety of topics that apply to pediatric healthcare.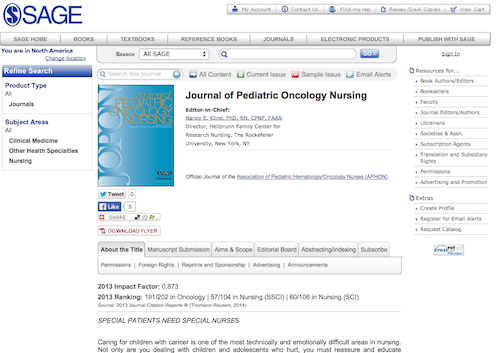 This journal publishes credible evidence-based pediatric oncology research studies and promotes the care of pediatric patients diagnosed with cancer.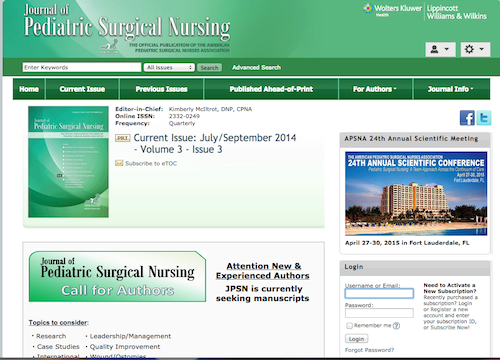 The Journal of Pediatric Surgical Nursing promotes pediatric surgical nursing excellence by continuing education opportunities, professional collaboration, and peer support.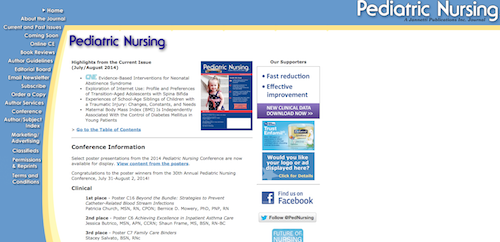 This journal provides reputable articles on pediatric practice, policy, and research.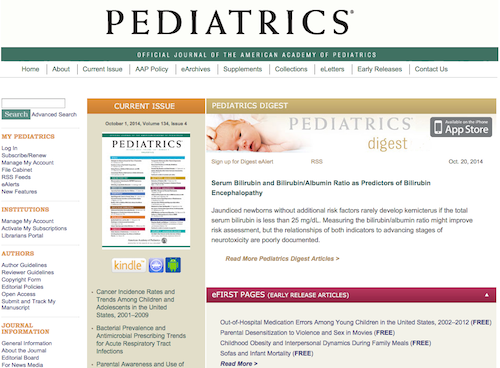 The official journal of the American Academy of Pediatrics, this peer-reviewed journal is a useful resource to all pediatric healthcare providers.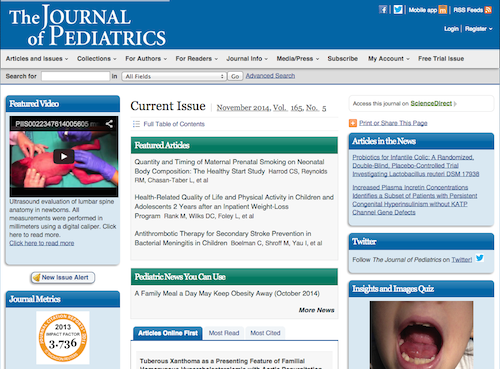 This international peer-reviewed journal serves as a functional guide to those that provide care to pediatric patients.
Blogs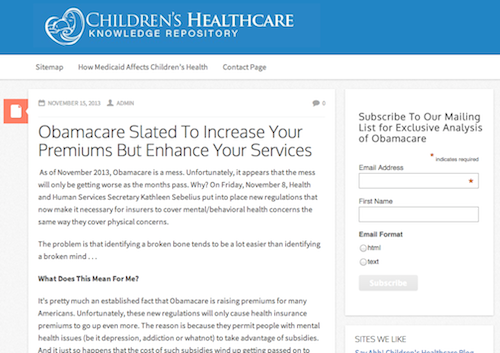 This blog is no longer updated but houses some extremely valuable articles pertaining to pediatric healthcare.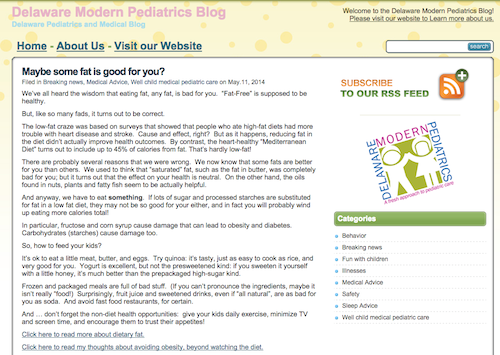 This blog, part of the Delaware Modern Pediatrics medical clinic, is written primarily by pediatric physicians with a goal of sharing useful medical information with readers.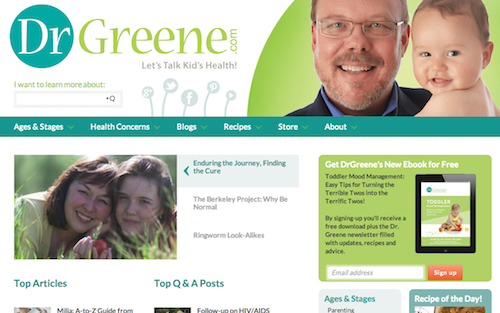 Dr. Greene, a pediatrician, writes this extremely informative blog containing a variety of articles pertaining to topics such as nutrition, sleep habits, and insect bites just to name a few.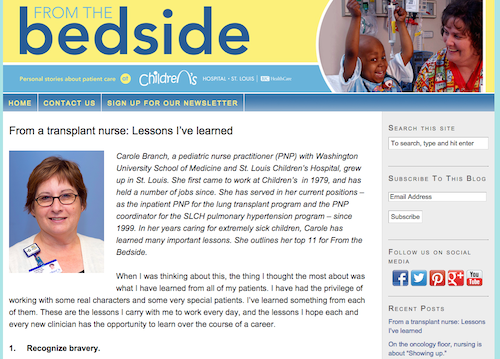 This blog contains patient stories from the Children's Hospital of St. Louis and is an excellent resource for pediatric nurses to learn from and relate to.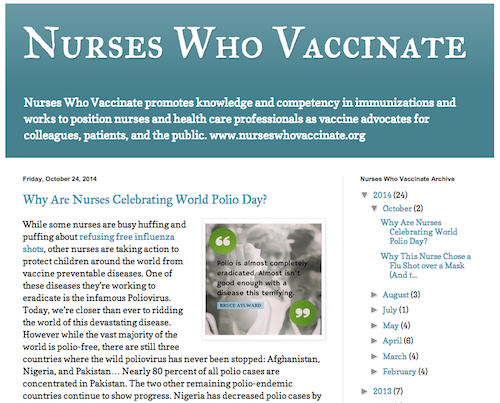 Nurses Who Vaccinate is written to educate and encourage nurses to promote vaccination amongst their patient population.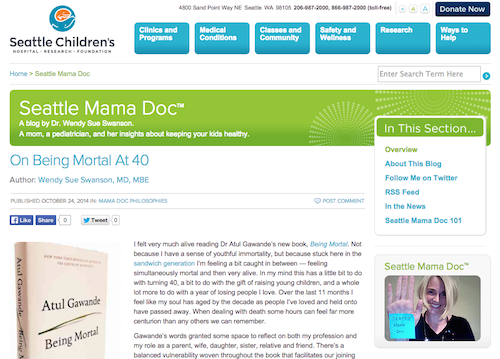 Dr. Wendy Sue Swanson writes this blog to answer the questions many parents have about the health, growth and development, and safety of their children.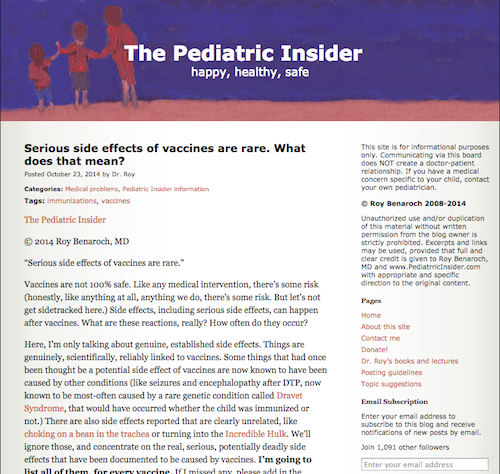 This blog is written by a pediatrician with the goal of sharing vital medical information as it pertains to pediatrics with healthcare professionals and the general public.
Thriving is the blog of the Boston's Children's Hospital and shares insight on current issues trending in healthcare.
Associations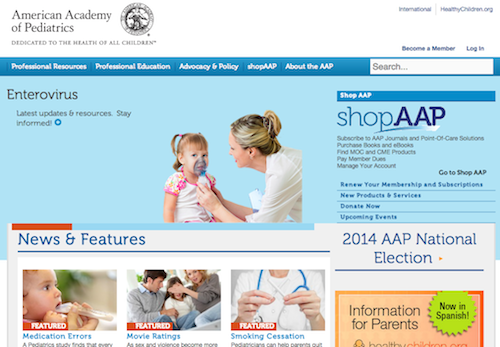 The American Academy of Pediatrics strives to better the health of infants, children, and adolescents by promoting physical and emotional wellbeing.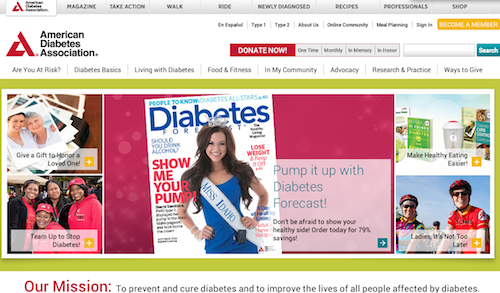 The American Diabetes Association is an excellent resource for all diabetes related questions and advocates for those affected by diabetes.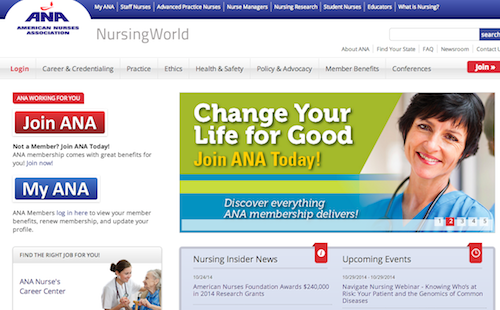 The American Nurses Association advocates for and promotes general health and wellbeing of the general population.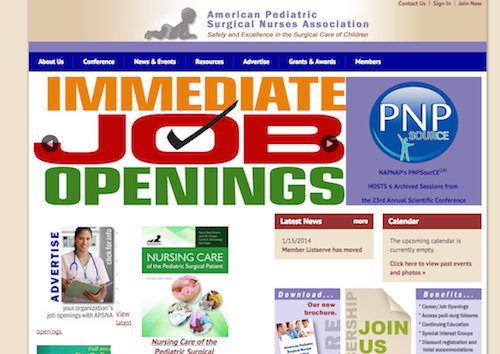 Members of the American Pediatric Surgical Nurses Association care for patients in a variety of settings including perioperative, inpatient, and outpatient.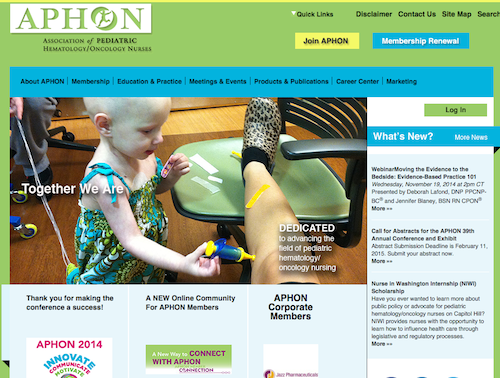 This association assists nurses to provide the best care possible to pediatric patients effected by cancer and blood disorders.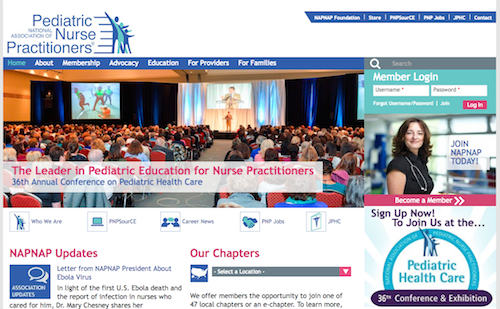 This association is dedicated to advancing the level of care provided by pediatric patients by supporting the role of pediatric nurse practitioners in their care.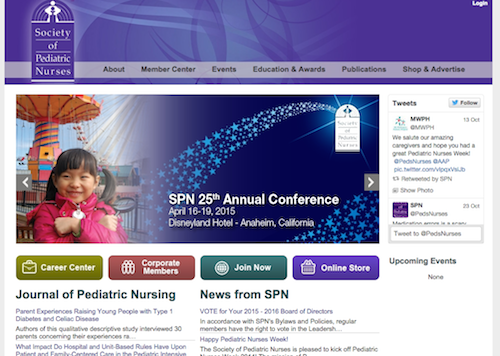 The Society of Pediatric Nurses is a primary resource for pediatric nurses wishing to advance in their specialty through education and research.
Conferences/Continuing Education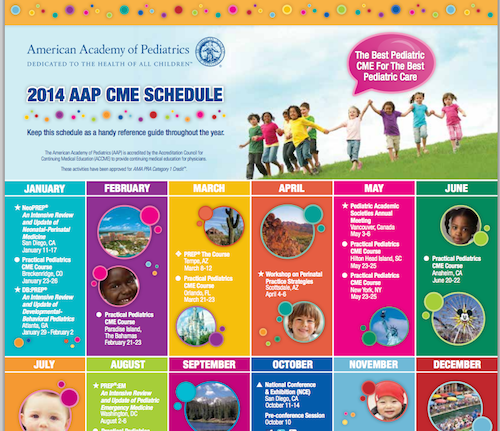 The American Academy of Pediatrics offers numerous opportunities each year for practitioners to advance their knowledge and expertise.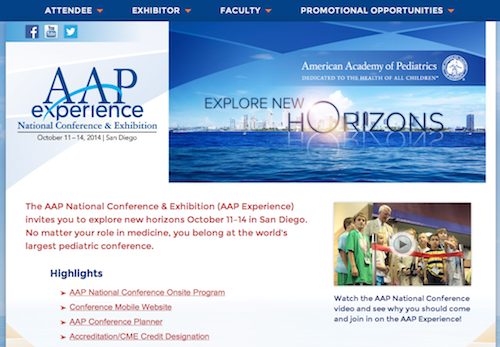 This conference, sponsored by the American Academy of Pediatrics, offers this national conference as a means to share research findings and allow attendees to network with some of the finest professionals in the field.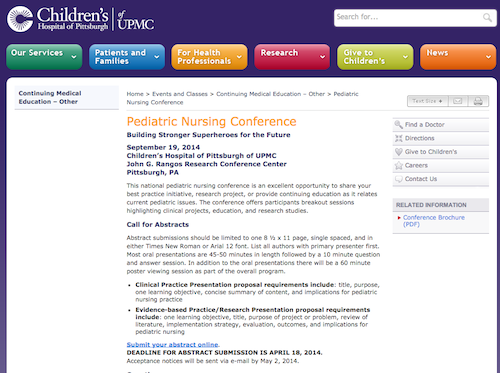 This conference is an excellent opportunity to share your latest research project while obtaining continuing education credits.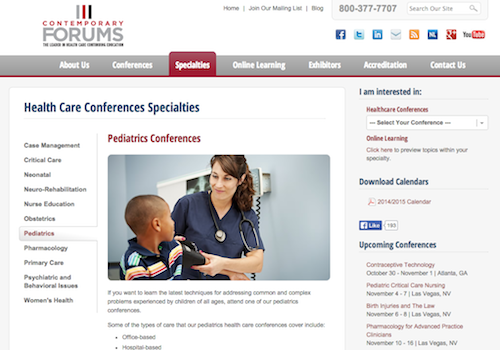 Attendees at this conference will learn the latest trends and techniques to address complicated pediatric cases.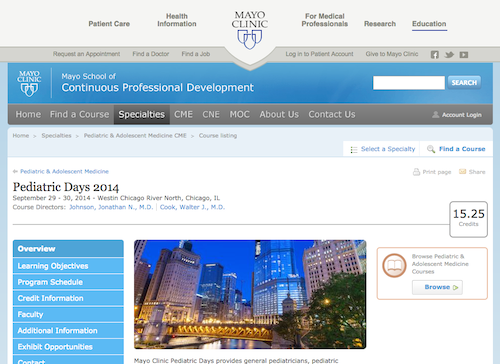 This conference provides pediatricians, family physicians, physician assistants, nurse practitioners, and nurses with up to date information on the most common issues in pediatrics.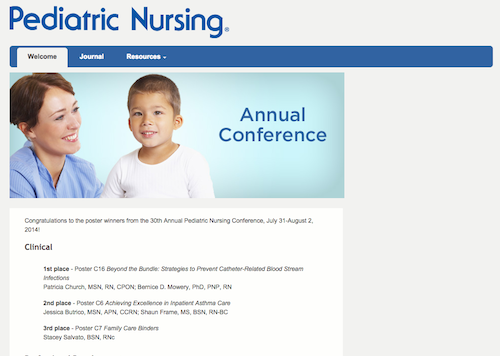 This annual conference promotes research and professional development amongst its attendees.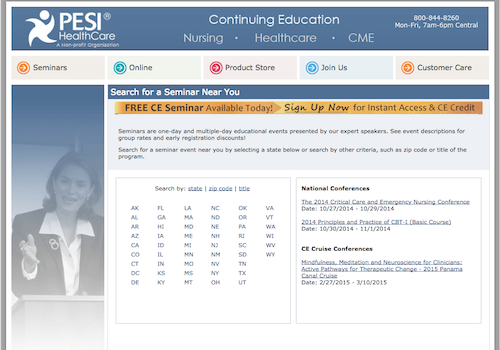 PESI Healthcare offers a variety of live and online seminars that pertain to pediatric medicine.
Certification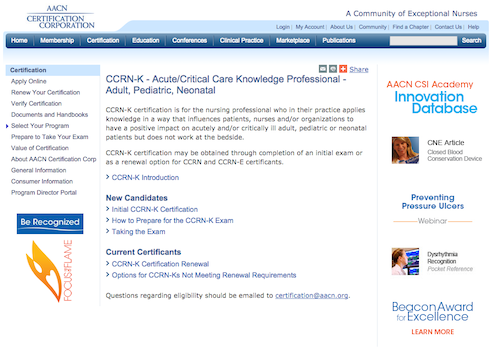 The AACN offers an Acute Critical Care Knowledge Professional in Adult, Pediatric, or Neonatal specialties to those that play an active role in the care of critically ill patients but do not practice bedside nursing.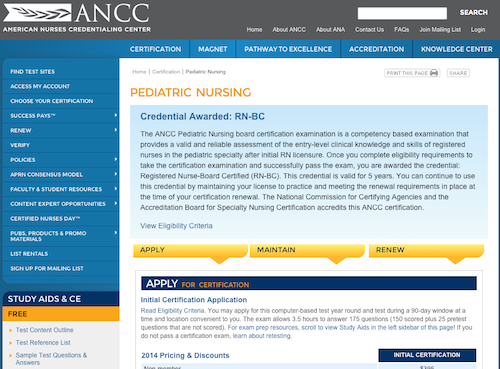 The American Nurses Credentialing Center offers board certification to registered nurses specializing in pediatric nursing. This certification acknowledges the knowledge and skills of this group of nurses.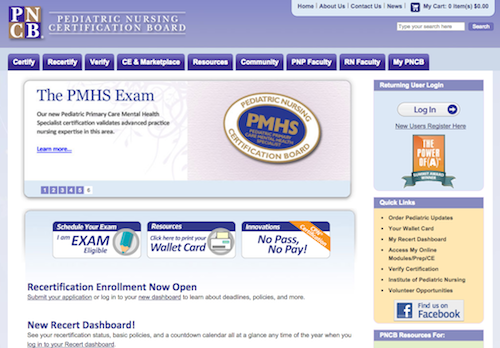 The Pediatric Nurses Certification Board is the largest independent certification organization for pediatric nurses.
Helpful Tools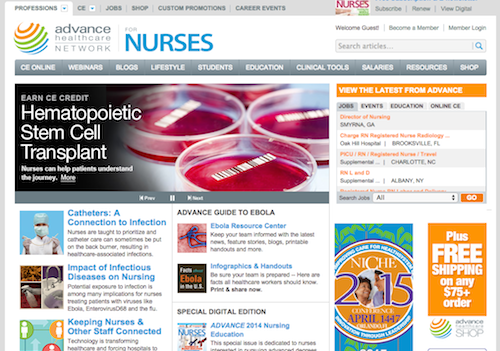 Advance offers a website filled with useful resources for pediatric nurses such as research articles, webinars, and job fairs.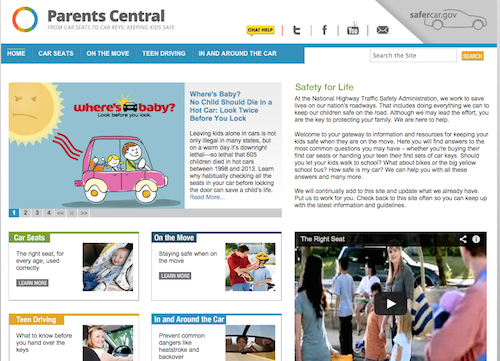 The National Highway Safety Traffic Administration strives to save lives by educating on the importance of proper use of safety belts.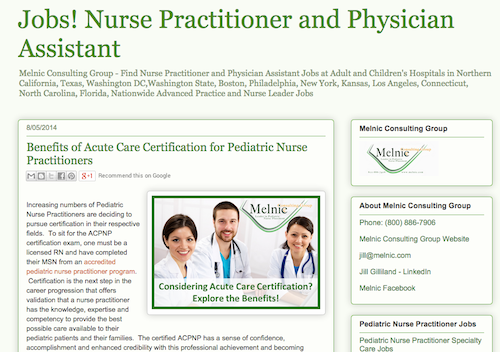 This website is a valuable resource to Pediatric Nurse Practitioners seeking job openings.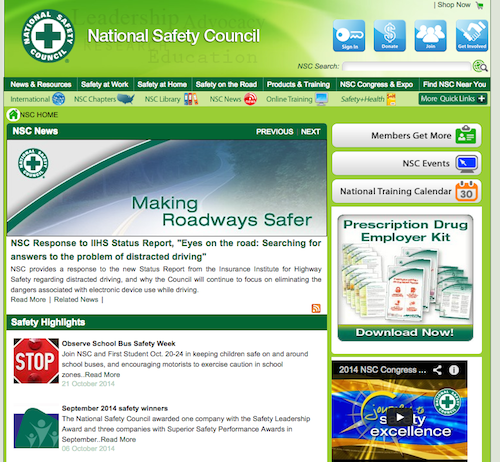 The National Safety Council works to decrease fatalities and save lives by means of research and education.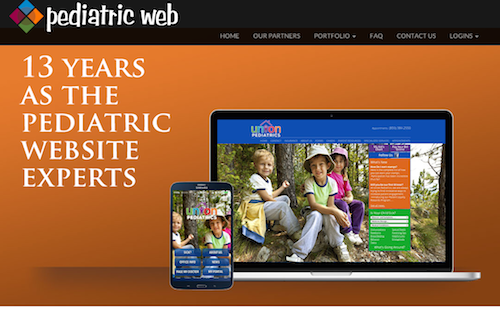 This company helps build and design websites to suit the needs of any pediatric medical practice.
To read more about becoming a pediatric nurse practitioner, see What Clinical Settings are Available to the Nurse Practitioner.
About the author: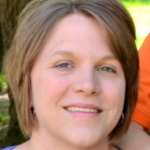 Jamie Bond has been a registered nurse since 2002 and returned to the college scene in 2012 to become a Family Nurse Practitioner. She has a passion for all things nursing, especially the care of the at–risk population. Jamie has first hand experience navigating the complicated, multifaceted field of nursing. A married mother of two school-aged sons, Jamie enjoys spending her spare time cheering on her kids at their various activities.