Published by Jamie Bond
Not all nurses are destined for a career in the emergency room. Those that follow their heart and specialize in emergency medicine must be quick thinkers and have the ability to multi-task while meeting the various needs of multiple ill patients. Emergency room nurses must be on their toes at all times as the needs of the next patient to seek care in the emergency room are unknown.
The following list of websites contains many valuable websites to prepare emergency room nurses for the unexpected. It is crucial for emergency nurses to keep abreast current trends in illness and treatments alike. The list of news/research websites and journals will allow these elite nurses to keep informed and in turn, allow them to provide the best care possible. Emergency room nurses often treat critical patients following a trauma or cardiac arrest. The list of blogs may help these nurses cope and relate to others in similar situations through these challenging times. There also is an extensive list of associations in which emergency room nurses may become members of that will allow networking opportunities as well as continuing education opportunities. There are specialty certifications and available to emergency room nurses who deserve to be recognized for their dedication and expertise in the profession.
News/Research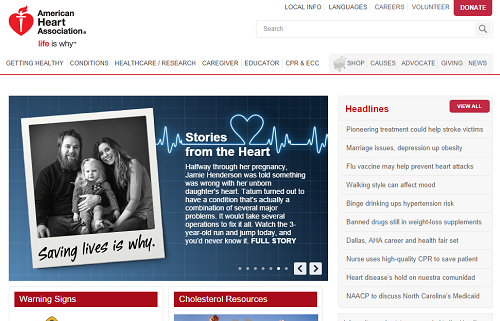 The American Heart Association strives to better the health of all individuals by way of health promotion and education.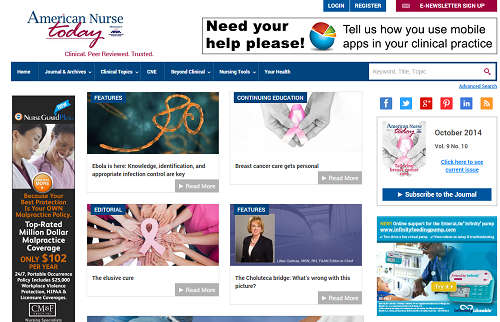 American Nurse Today is a valuable resource that includes numerous articles pertaining to various specialties in healthcare.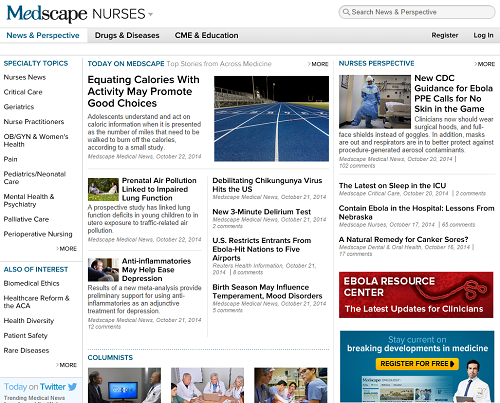 Medscape is an excellent resource for evidence based research findings and educational tools.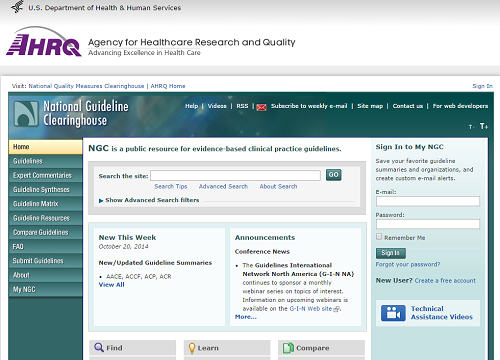 The National Guideline Clearinghouse guidelines developed by evidence based research with the goal to promote uniformity in healthcare.
Nurse.com – Emergency Room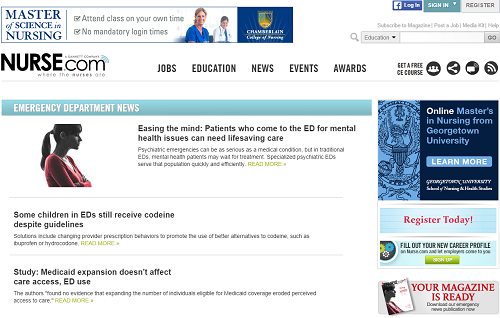 A trusted website, nurse.com provides nurses with access to job openings, continuing education opportunities, and current news.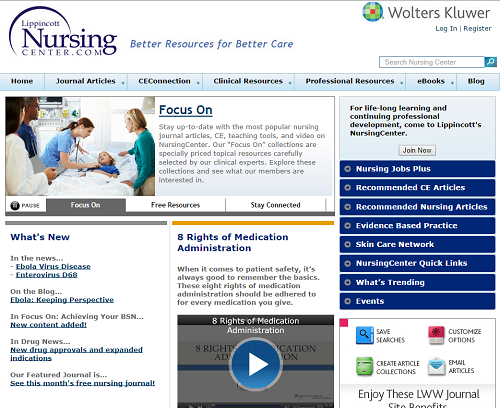 NursingCenter offers valuable resources to improve the quality of care provided by nurses.
Journals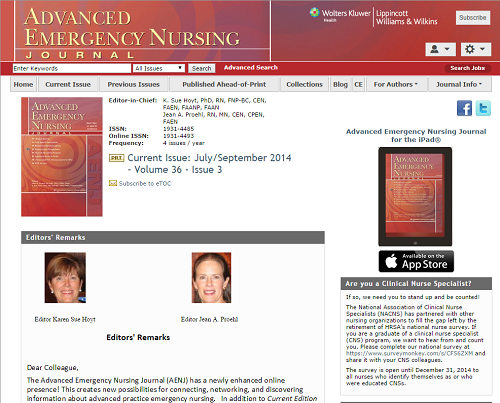 This peer-reviewed journal is written for nurse practitioners, clinical nurse specialists, nurses, and educators in the emergency room setting and contains evidence based articles applicable to daily practice.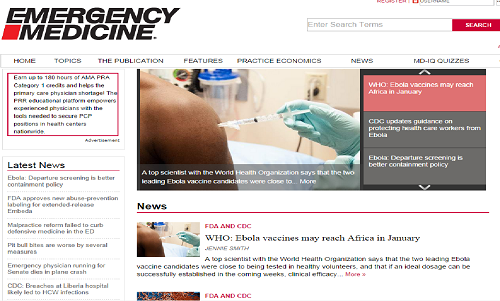 This monthly journal is geared toward healthcare professionals in the emergency room setting and contains hands on clinical information that applies to the emergency or urgent care setting.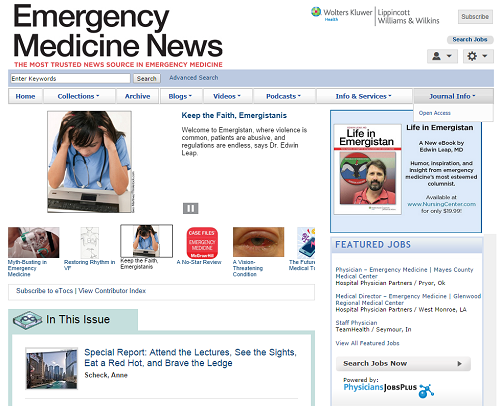 This journal is provided to emergency medicine physicians by the American Medical Association and includes articles on trends and issues within the specialty field.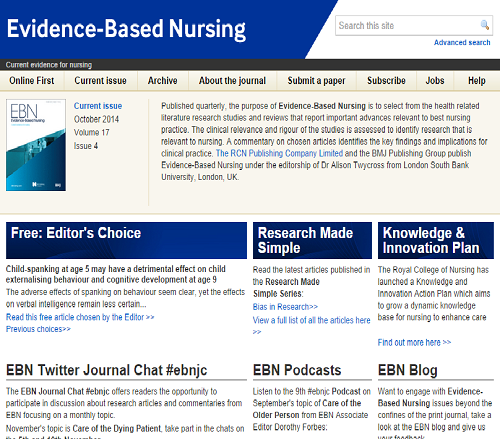 This journal is published quarterly and contains some of the most pertinent research findings that can be applied to daily practice.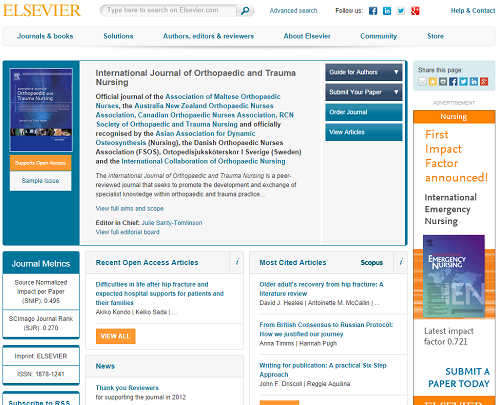 The International Journal of Trauma Nursing features research articles relating to the diverse issues faced internationally in the area of trauma nursing.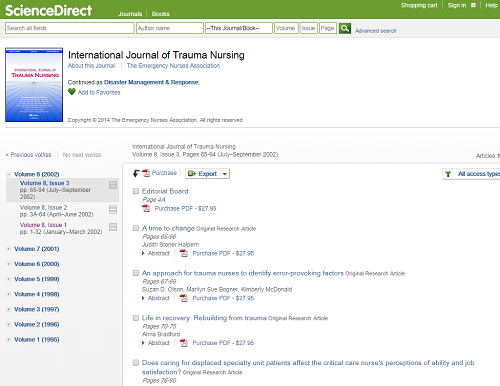 The International Journal of Trauma Nursing features research articles relating to the diverse issues faced internationally in the area of trauma nursing.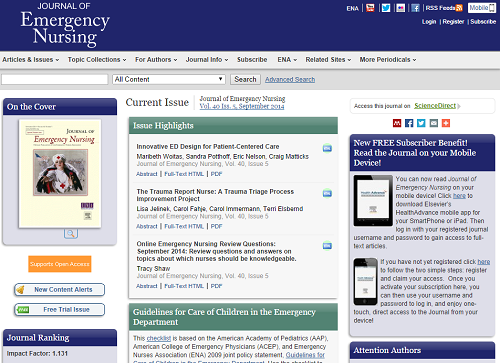 The official journal of the Emergency Nurses Association, this peer-reviewed journal covers practice issues based on research findings.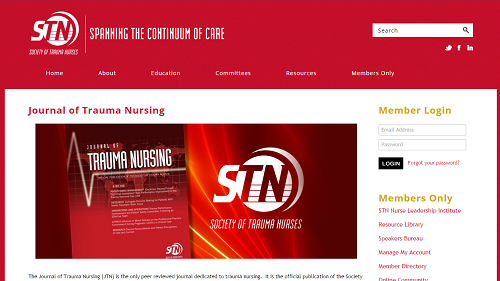 The Journal of Trauma Nursing seeks to improve the care provided to trauma patients by education, collaboration, and leadership.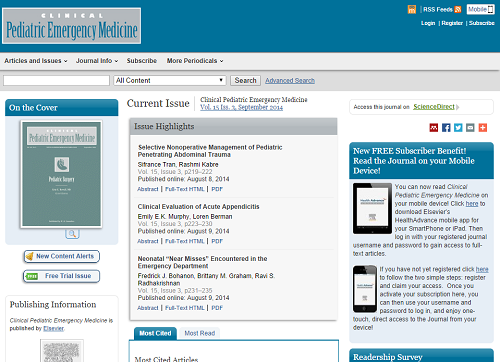 Each issue of this popular journal focuses on a common issue seen in the emergency department and encourages providers to administer the best possible care.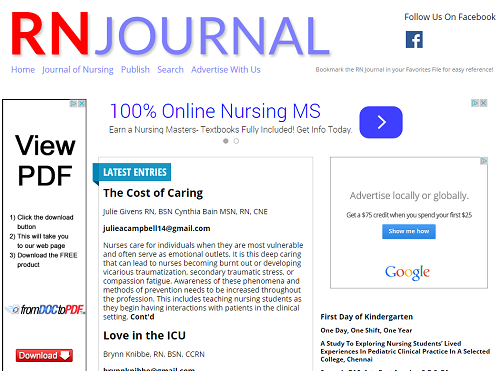 The RN journal is an online resource that contains various articles pertaining to all areas of nursing.
Blogs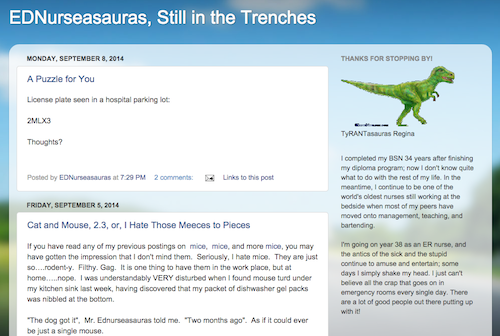 Written by a nurse with over 30 years experience, this blog contains recaps of real life situations that occur in the emergency room.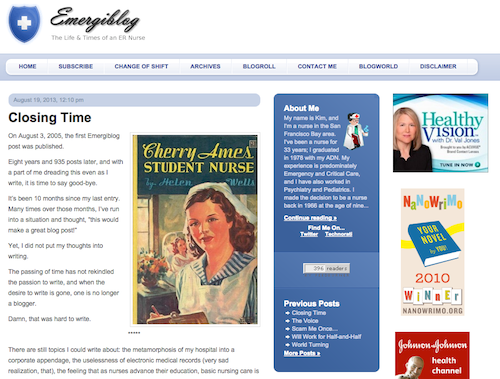 This blog, while no longer being updated, contains first hand experiences of a nurse in the emergency room.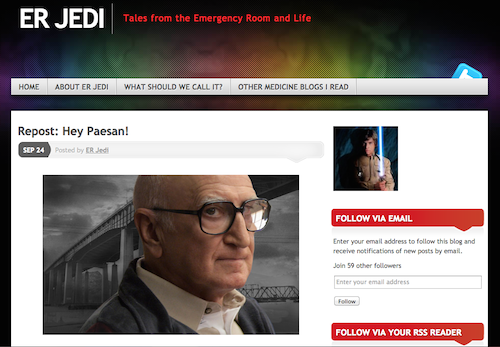 This blog is written by a resident physician in emergency medicine and allows him to document his experience and vent about trying situations.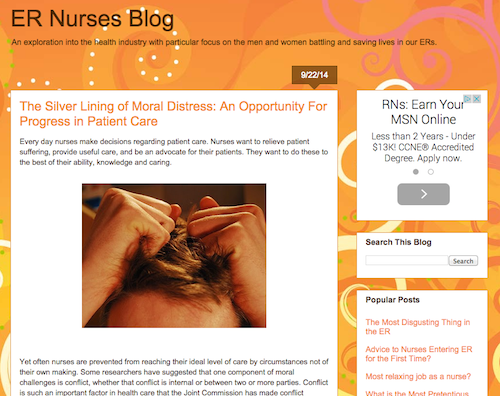 Written by emergency room nurse Leslie Block, this blog uses her passion for nursing to demonstrate caring and compassion through her posts focusing on healthy living, injury prevention, and various current topics in healthcare.
This blog is written by a former military physician who writes about common occurrences in the emergency room and current issues in healthcare.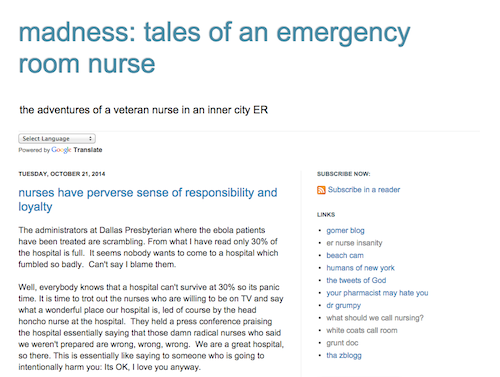 This blog is written by an inner-city emergency room nurse and includes articles written about current topics in healthcare from a nurse's point of view.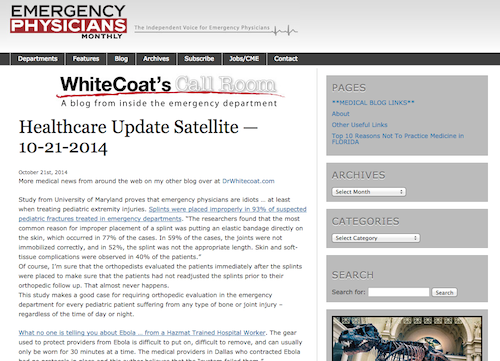 White Coats Call Room is the blog of the website Emergency Physicians Monthly and features healthcare articles pertaining to treatment in the emergency room written by a variety of physicians.
Associations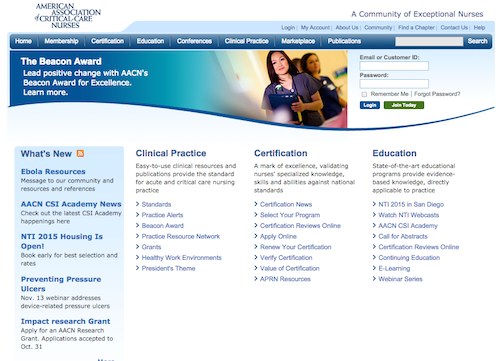 The American Association of Critical Care Nurses encourages acute and critical care nurses to reach their highest potential by promoting continuing education opportunities.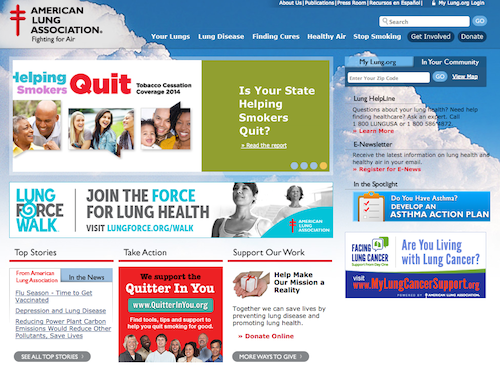 The American Lung Association works to save lives by education, advocacy, and research.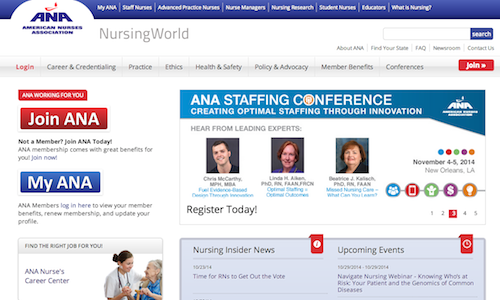 The American Nurses Association is the primary association of nurses in American and promotes overall health by offering continuing education opportunities to nurses.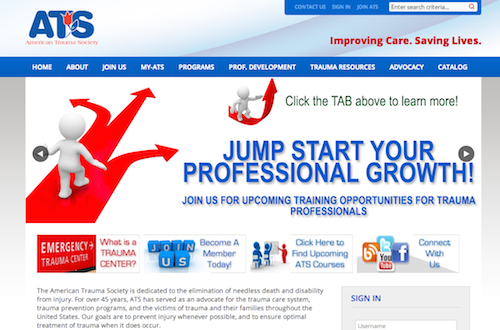 The American Trauma Society advocates for proper treatment of patients when accidents occur and works to prevent trauma by way of education.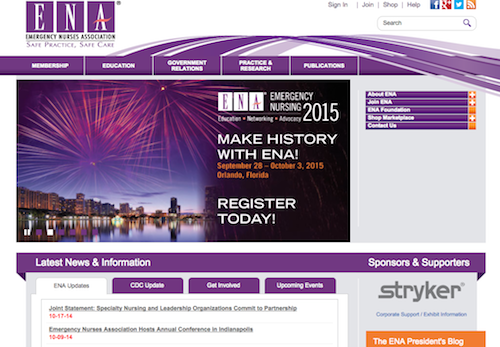 The Emergency Nurses Association advocates for patient safety and promotes quality in emergency nursing practice.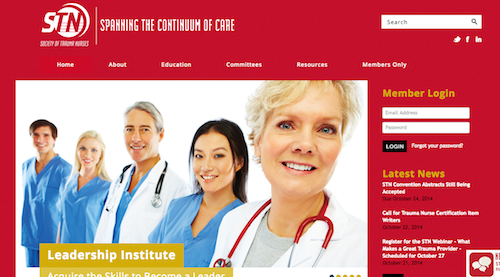 The Society of Trauma Nurses works to effectively train trauma nurses to provide high-quality care to trauma patients.
Conferences/Continuing Education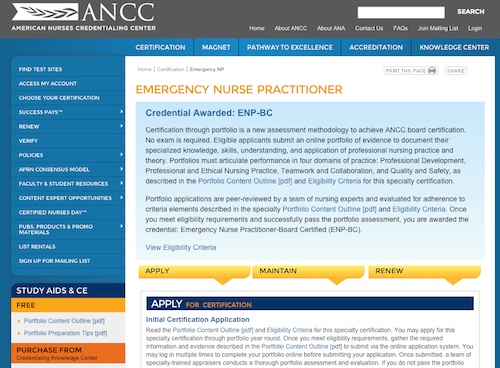 Nurse Practitioners can become certified in emergency medicine by submitting an online portfolio – no exam required!
Barnes Jewish Hospital: Trends in Trauma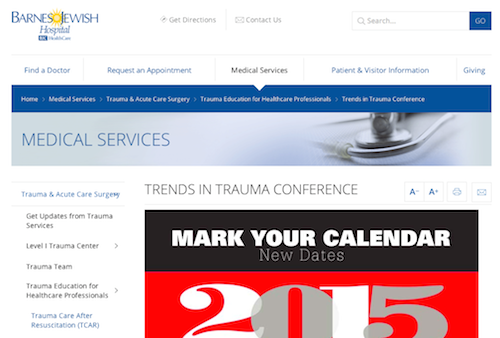 Offered by Barnes Jewish Hospital, this conference focuses on current trends in trauma including medications and alternative treatment options.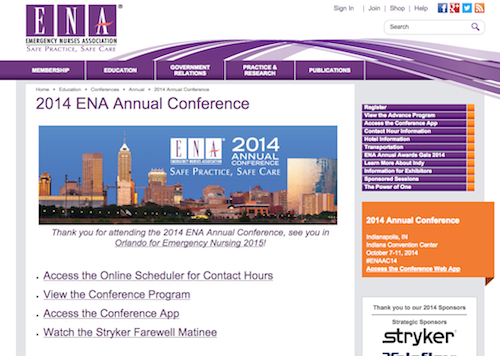 This annual convention is offered to nurses wishing to further their knowledge depth while networking with peers interested in the same field.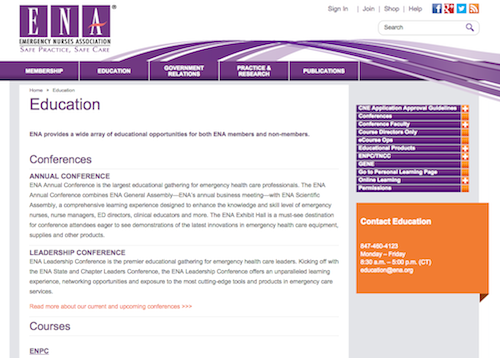 This website details the continuing education opportunities offered by the Emergency Nurses Association including conferences and seminars.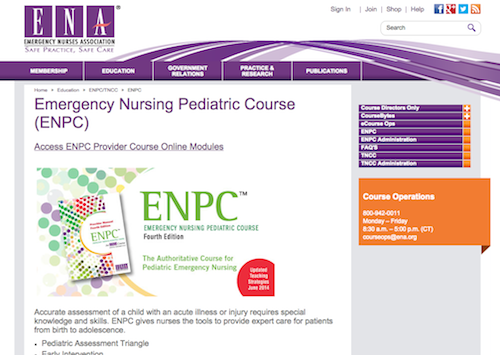 This course prepares nurses to adequately perform physical assessments on infants, children, and adolescents. Successful completion earns the nurse an ENPC 4-year provider card.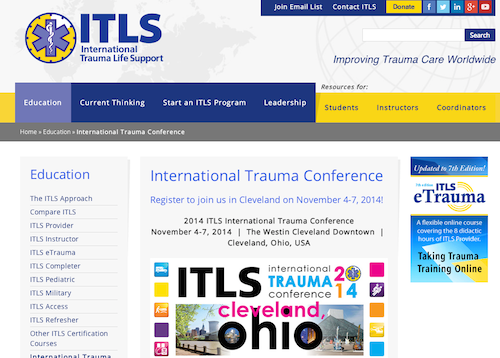 This first class conference attracts trauma healthcare workers worldwide seeking to advance their education and to network with peers.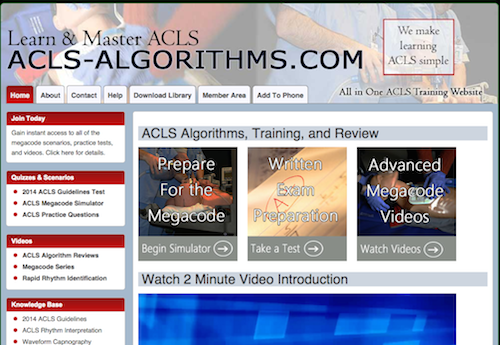 This website offers videos and practice tests for those preparing to take the Advanced Cardiac Life Support exam.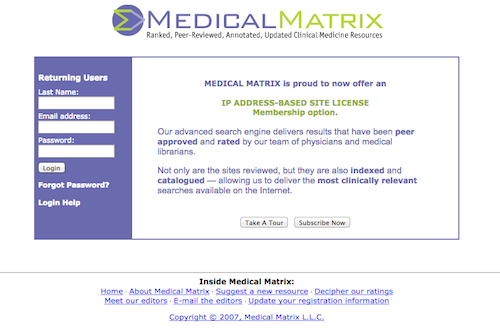 This website contains an extensive listing of educational websites pertinent to emergency medicine.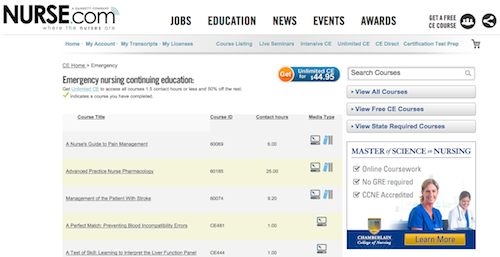 Nurse.com offers a comprehensive list of continuing education opportunities for emergency room nurses.
Society of Trauma Nurses Annual Conference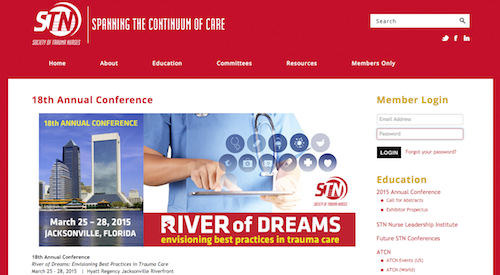 The needs of trauma nurses and trauma professional are at the forefront of this conference that offers continuing education and networking opportunities as well as break out sessions focused on complex issues in trauma nursing.
Certification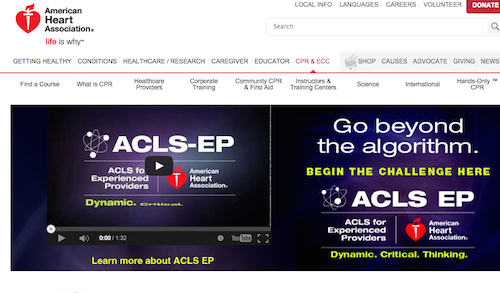 ACLS certification signifies the healthcare providers ability to provide proper care to adult patients in cardiac arrest.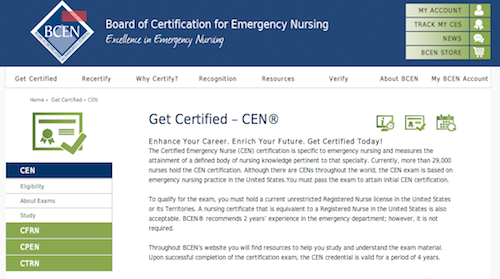 Emergency room nurses are eligible to sit to become a Certified Emergency Nurse that gives the most skilled and experienced nurses in the field recognition for their dedication.
nbsp;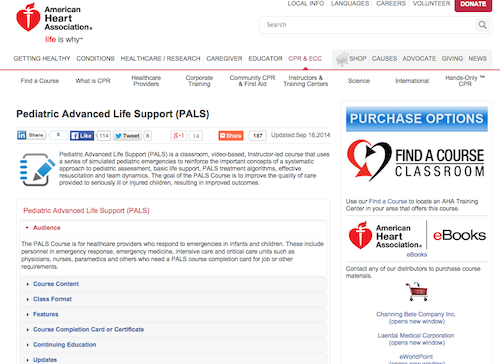 Pediatric Advanced Life Support certification is required for all emergency room nurses and signifies the healthcare providers ability to appropriately care for seriously ill or injured infants and children.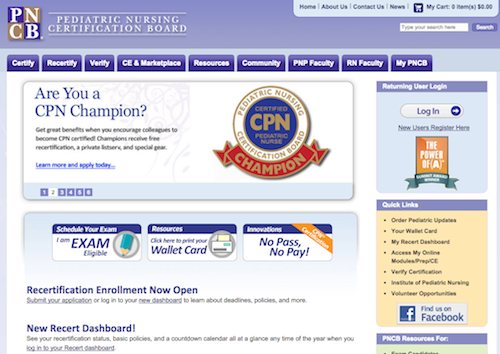 The Pediatric Certified Nurse exam is available to any pediatric nurse with a considerable amount of experience who wishes to become certified to display their accomplishments.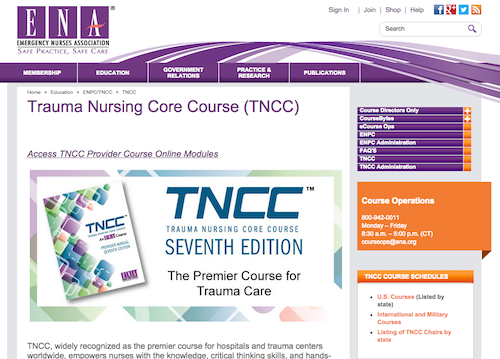 This course is the gold standard in emergency nursing and identifies those nurses with the extensive knowledge and experience needed to appropriately treat trauma patients.
Helpful Tools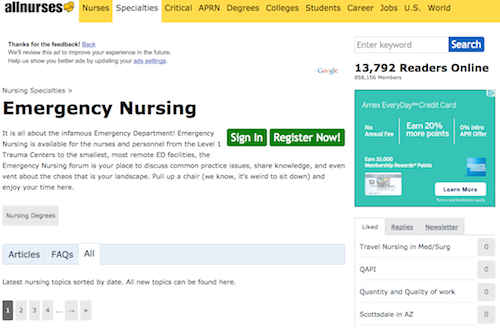 Allnurses.com offers this forum for emergency department nurses to network, discuss issues in healthcare, and share experiences and knowledge.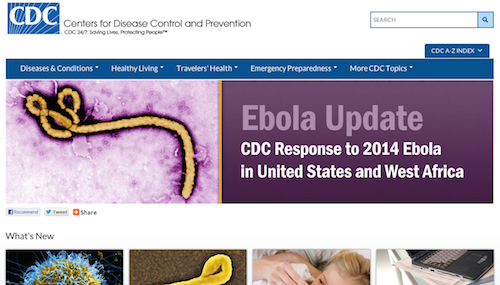 The CDC conducts intense research into diseases to determine the means of transmission and prevent the spread of communicable diseases.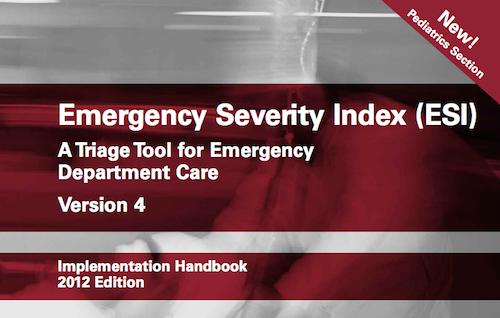 This triage tool is a useful tool used in emergency room triage settings and easily divides patients into levels depending on their presenting symptoms.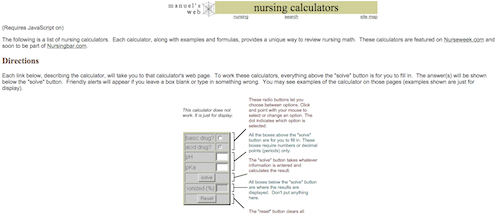 This website contains various dosage, intravenous fluid, conversion, and clinical calculators that can be extremely useful when out of the ordinary situations arise.
For information regarding becoming an emergency room nurse practitioner, see what is the best MSN concentration to get.
About the author: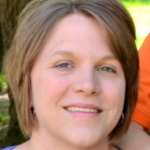 Jamie Bond has been a registered nurse since 2002 and returned to the college scene in 2012 to become a Family Nurse Practitioner. She has a passion for all things nursing, especially the care of the at–risk population. Jamie has first hand experience navigating the complicated, multifaceted field of nursing. A married mother of two school-aged sons, Jamie enjoys spending her spare time cheering on her kids at their various activities.