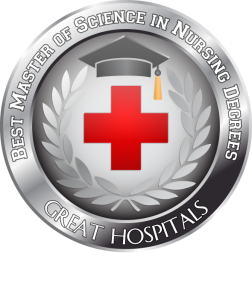 By BMSN Staff
Historically a place for the sick and dying, hospitals have the potential to educate and promote health and wellness. Many of the following modern hospital facilities offer educational programs including cooking classes and driver education in an attempt to advance healthy living. The following hospitals were chosen for this list for their architectural beauty and ingenuity, their desire to improve energy efficiency and sustainability, and their first-class care centers. A number of these facilities house meditation areas and gardens onsite, a further attempt to soothe and heal through the creation of a peaceful and compassionate environment.
25. Kaiser Foundation Hospital – Fontana
Fontana, Inland Empire, California, USA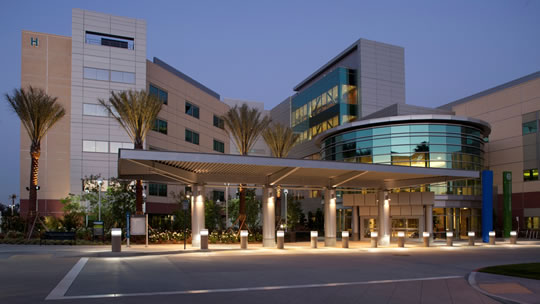 Image Source
Originally established in 1955, the Kaiser Foundation Hospital-Fontana broke ground on its new facility in 2009. Designed by HMC Architects, the 490,000 square-foot space reaches 7 stories high and includes 314 beds intended to replace the hospital's original, aging facility. HMC Architects included improvements to increase efficiency as well as patient and staff capacity. The new building also incorporates more patient-centered areas, energy efficient lighting, and the utilization of recycled tap water for campus landscaping.
Sources:
http://www.wikipedia.org/wiki/Kaiser_Foundation_Hospital_-_Fontana
http://www.architectmagazine.com/projects/view/kaiser-permanente-fontana-medical-center/2880/
24. Winnie Palmer Hospital for Women and Babies
Orlando, Florida, USA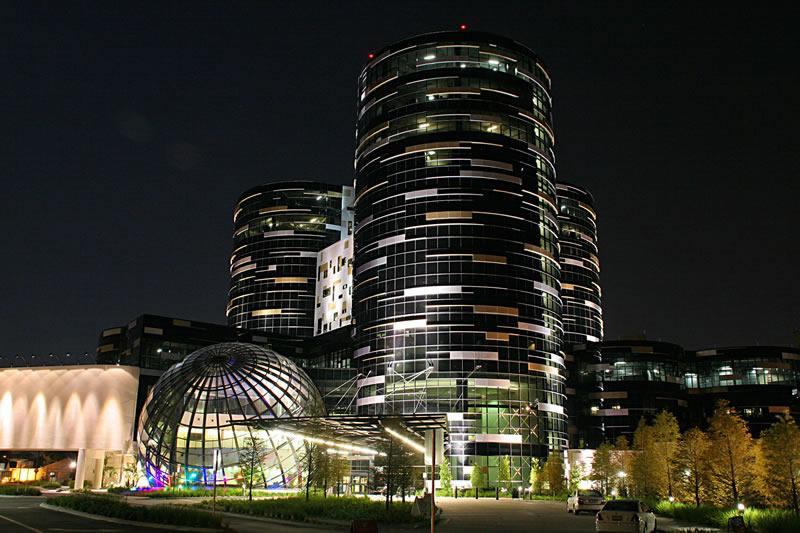 Image Source
One of Florida's premier labor and delivery hospitals, the Winnie Palmer Hospital has one of the nation's largest neo-natal intensive care units and is supported by the Arnold Palmer Medical Foundation. Renovated in 2006 with a stunning design by Jonathan Bailey Associates UK Ltd., the facility offers a cutting-edge and nurturing medical environment. Intended as a"healing getaway"for patients and their families, the striking dark glass, large globe structure, and calming interior tones provide the sick with a serene and peaceful environment. Both modern and sophisticated, the Winnie Palmer Hospital is an impressive architectural compliment to one of the nation's most exceptional hospitals.
Sources:
http://www.orlandohealth.com/winniepalmerhospital/index.aspx
http://architizer.com/projects/the-winnie-palmer-hospital-for-women-babies/
23. Mediclinic City Hospital
Dubai, UAE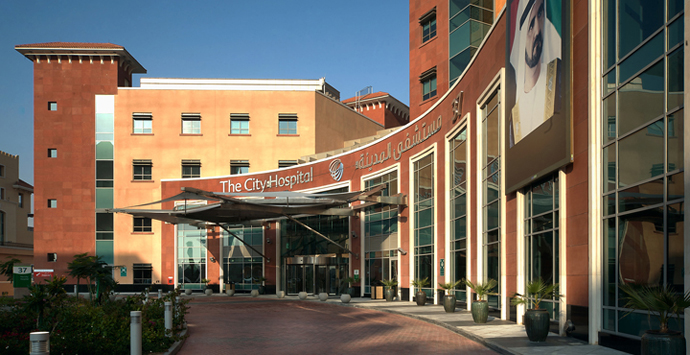 Image Source
Centered in one of the world's most important economic and cultural regions, the Mediclinic City Hospital was first opened in Dubai in 2008. Known as the first multi-disciplinary in Dubai Healthcare City, the facility houses 229 beds and is part of Mediclinic Middle East which is owned by Mediclinic International. With 66 sister facilities throughout Southern Africa and Switzerland, the Mediclinic City Hospital promotes a collaborative environment with an emphasis on patient needs.
22. Florida Hospital Waterman
Tavares, Florida, USA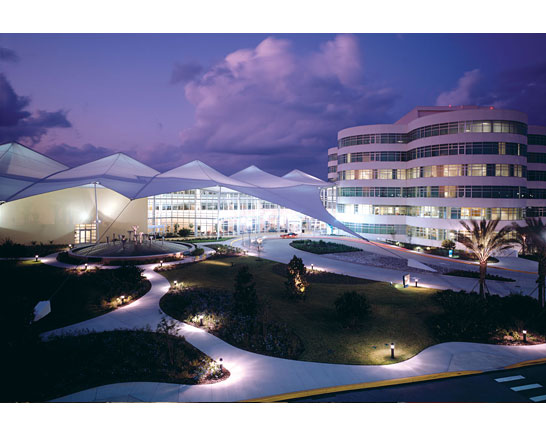 Image Source
Like the Winnie Palmer Hospital, the Florida Hospital Waterman was designed by Jonathan Bailey Associates UK Ltd. Part of the Florida Hospital System and one of 22 campuses; the original hospital was founded in 1908. Known for tits comprehensive services and state-of-the-art medical imaging department, the facility boasts a 12,000 square foot atrium complete with restaurants, a gift shop, and florist. Built in 2003 with a focus on advanced technology, the hospital, which is owned by Adventist Health System, offers 220 beds, an 18,000 square foot cancer center, and a 24-hour emergency department.
Sources:
http://www.wikipedia.org/wiki/Florida_Hospital
http://architizer.com/projects/florida-hospital-waterman/
21. Benjamin Russell Hospital For Children
Birmingham, AL, USA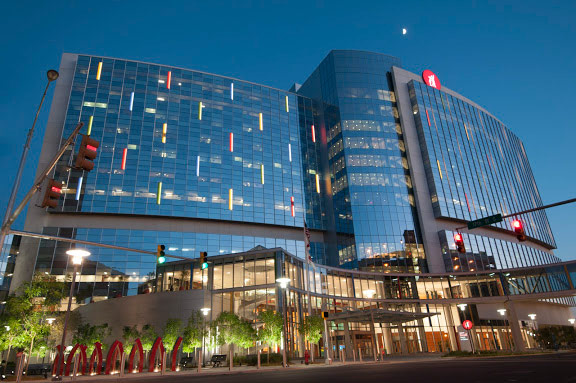 Image Source
Founded in 1911 as the Holy Innocents Hospital for Children, the Benjamin Russell Hospital has grown from a 12-bed facility to one of the nation's busiest children's hospitals. The hospital facility expansion, completed in 2012 provides 332 beds and 48 bassinets in the neonatal intensive care unit. The 12-story building, a LEED Gold Certified structure is Alabama's first hospital to receive the rating, and incorporates natural lit, energy efficient rooms for patients, families, and hospital staff. Known as the only comprehensive children's hospital in the United States, the Benjamin Russell Hospital strives to educate, entertain, and administer a high level of care to children and their loved-ones.
20. Akershus University Hospital
Lorenskog, Norway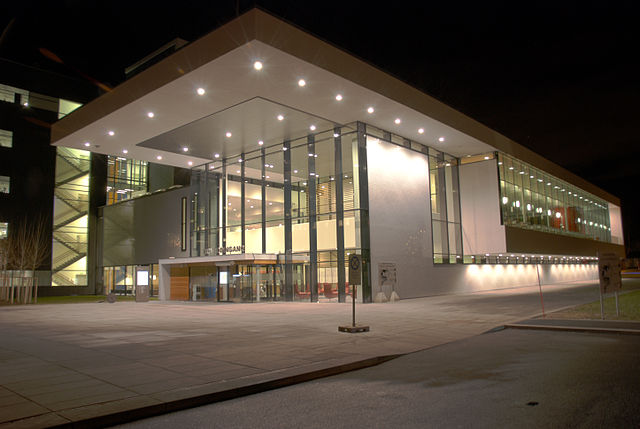 Image Source
Opened in 1961, the Akershus University Hospital is one of the University of Oslo's four hospitals. The facility's new building, designed by Danish firm Arkitektfirmaet C.F. Moller claims to be the most modern hospital in all of Europe, and houses an extensive art collection including twelve site-specific pieces. Believing that art aids in the promotion of healing, the $7 million dollar collection includes works by world-renowned artists Tony Cragg and Julie Nord to name a few. The hospital focuses primarily on teaching, research, treatment, and patient care, and it presents a number of public spaces to spotlight interaction within the facility's community.
Sources:
http://www.wikipedia.org/wiki/Akershus_University_Hospital
19. Henry Ford West Bloomfield Hospital
West Bloomfield Township, Michigan, USA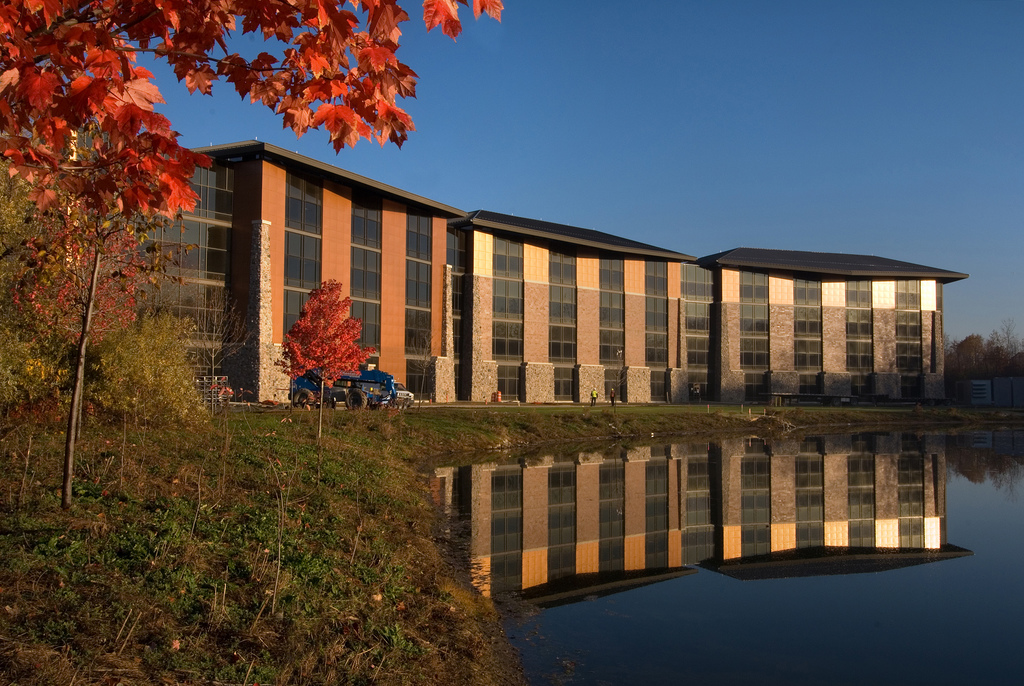 Image Source
Located north of Detroit in West Bloomfield, Michigan, the Henry Ford West Bloomfield Hospital was recently expanded from a small medical office building to a large full-service hospital facility. With private rooms and three patient towers, known as"lodges,"the hospital succeeds in offering patients a relaxing and calm environment, complete with a 1,500 square foot greenhouse, and stunning views from each suite. Powered by a 3-story energy center, the hospital focuses on education and compassionate care and includes a cooking demonstration kitchen and gardening classes. The Greenhouse at Henry Ford West Bloomfield Hospital is Michigan's first organic hospital-based greenhouse that strives through classes and an emphasis on nutrition to combat the nation's obesity epidemic.
Sources:
http://midwest.construction.com/midwest_construction_projects/2009/1201_FordHospital.asp
18. Shesmedi Hospital
Gyeonggi-do, South Korea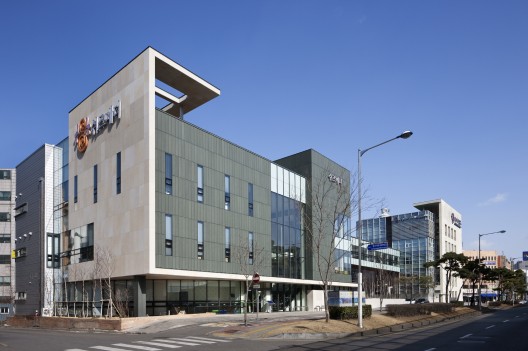 Image Source
Situated in South Korea's Gyeonggi Province in the center of the Korean peninsula, the Shesmedi Hospital recently expanded to a two-building facility connected by a remarkable 40-meter walking bridge. Designed by Yeonghwan Lin and Sunhyun Kim, the hospital holds 47 beds and includes a 20-bed maternity ward. With numerous windows to add light and air into the space, the architects have transformed the former facility into a modern and aesthetically pleasing one for the citizens of South Korea.
Sources:
http://www.archdaily.com/367333/shesmedi-hospital-d-lim-architects/
17. Aga Kahn University Hospital
Karachi, Pakistan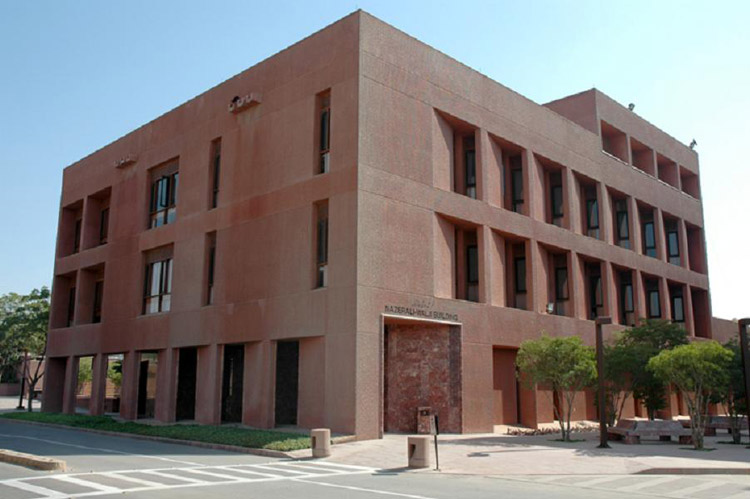 Image Source
Established in 1985 as the University's primary teaching hospital, the Aga Kahn University Hospital is located on a 65-acre site with medical and nursing schools, housing for staff and students, and a mosque. Envisioned by Payette Architects, the hospital's design carefully considers Karachi's natural environment as well as the region's cultural setting and values. With 721 beds, the hospital seeks to promote human welfare and the spread of knowledge to the people of Pakistan.
Sources:
http://en.wikipedia.org/wiki/Aga_Khan_University_Hospital,_Karachi
https://www.aku.edu/mcpk/Pages/home.aspx
16. North Shore LIJ Katz Women's Hospital and Zuckerberg Pavillion
New Hyde Park, New York, USA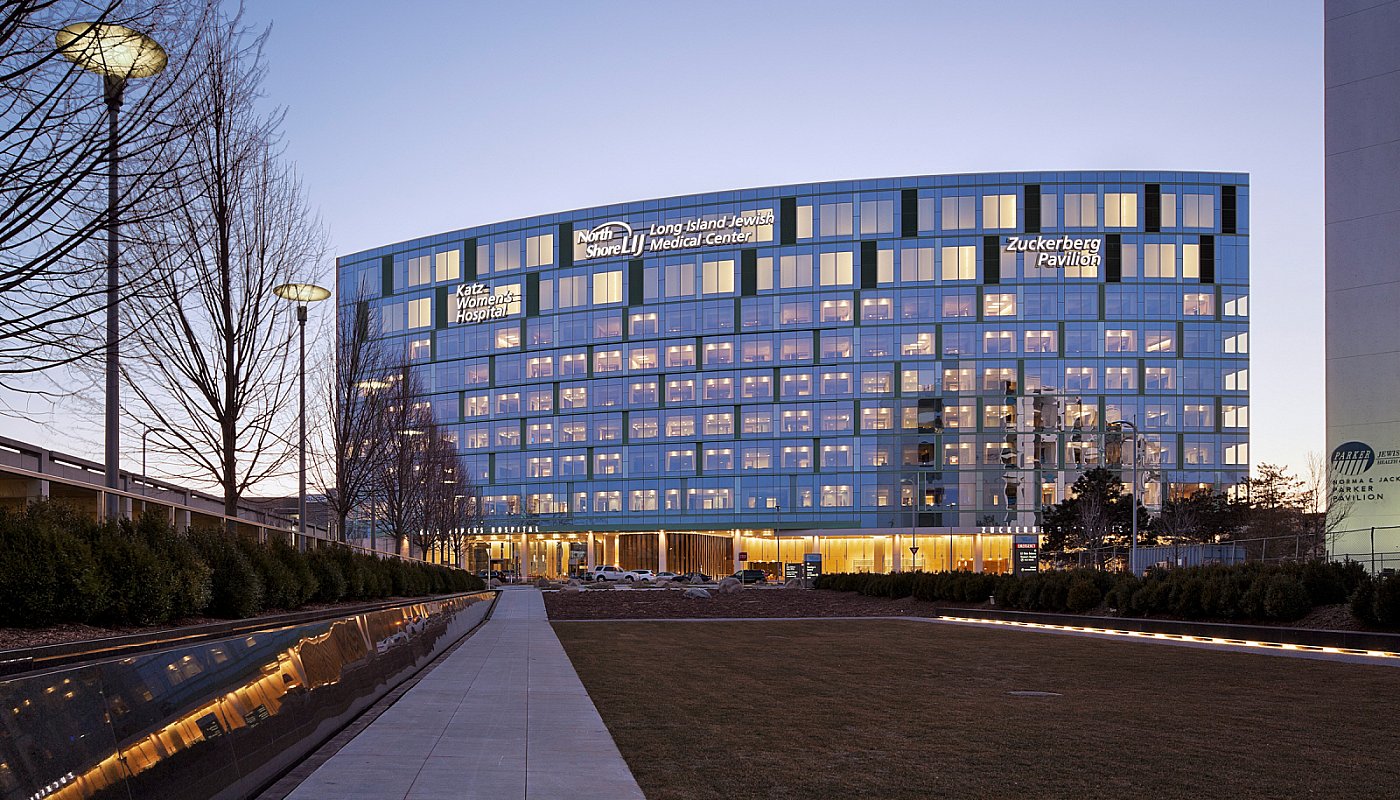 Image Source
Designed by Skidmore, Owings and Merrill LLP, the North Shore LIJ Women's Hospital and Zuckerberg Pavillion is a feat of contemporary architecture. With a dazzling curved glass façade, the $250 million facility, which is part of the LIJ Medical Campus, houses a state-of-the-art information system as well as private patient rooms with bathroom and shower. The hospital's labor and delivery rooms offer cutting edge technology, and the facility also include a botanical garden, restaurant, retail shop, and meditation room for patients and guests.
Sources:
http://www.healthcaredesignmagazine.com/article/engaging-geometry
http://www.northshorelij.com/obgyn/wh-about-us/katz-womens-hospital-at-long-island-jewish-medical-center
15. McKay-Dee Hospital Center
Ogden, Utah, USA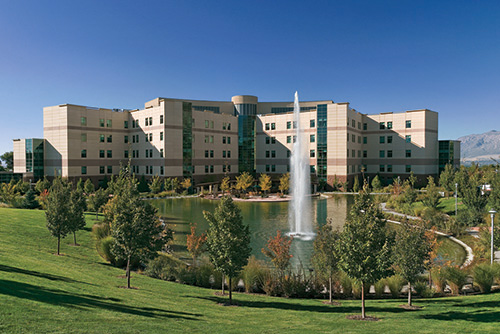 Image Source
Founded in 1910 and designed by local Ogden architect L.S. Hodgson, the McKay-Dee Hospital Center was recognized in 200 by HCIA as one of the best hospitals in the region. The facility's recent renovation was completed by H.K.S., a Texas-based architectural firm, and was opened in 2002. Selected as the Olympic Family Hospital for the 2002 Olympic Games, the hospital is part of the Intermountain Healthcare System and has been renovated multiple times throughout the last century. Recently named as one of the nation's 100 top hospitals, McKay-Dee Hospital Center specializes in heart and vascular health, cancer treatment, and emergency services.
Sources:
http://www.wikipedia.org/wiki/McKay-Dee_Hospital_Center
http://intermountainhealthcare.org/hospitals/mckaydee/about/history/Pages/century.aspx
14. Virtua Voorhees Hospital
Voorhees Township, New Jersey, USA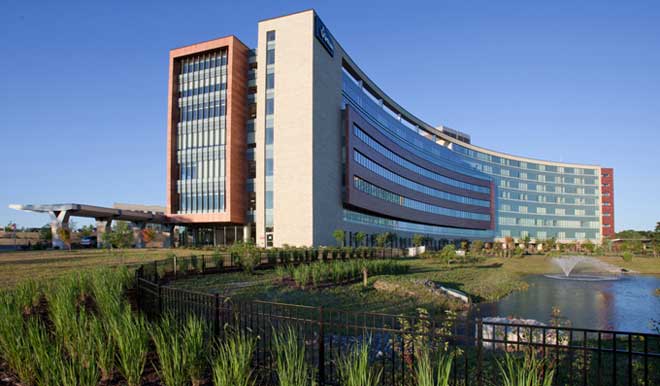 Image Source
Designed by HGA, this 680,000 square foot hospital offers a family centered environment and a focus on compassionate care. With a 368-bed tower, medical office building, and ambulatory care center, Virtua Voorhees Hospital has been recognized in particular for their maternity care facility. Hospital designers focused on site context and creativity while envisioning the hospital, and included a"garden in the forest"concept while designing the space's surrounding landscape. Private patient rooms and two emergency areas, one for pediatric patients and the other for adults, contribute to one of the region's best care facilities.
Sources:
http://www.virtua.org/locations/hospitals-and-locations/virtua-voorhees.aspx
http://hga.com/work/virtua-voorhees
13. Einstein Medical Center Montgomery
East Norriton, Pennsylvania, USA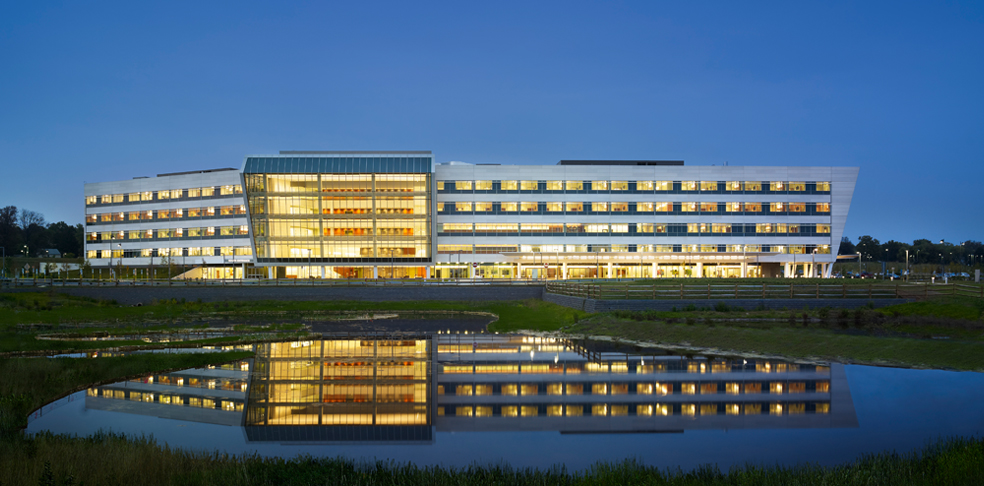 Image Source
Using natural materials and neutral tones, architects Perkins and Will of New York City sought to emulate the feeling of a luxury hotel in their design for the Einstein Medical Center Montgomery. Focusing on natural light, the facility offers family-centered services including private rooms equipped with sleeper sofas for hospital guests. The $350 million design incorporates views of Norriton Farm Park and provides a variety of community health classes including childbirth and pediatric CPR. The center also houses a 22-bed intensive care unit, a level III neonatal intensive care unit, and a cancer center.
Sources:
http://www.einstein.edu/locations/einstein-medical-center-montgomery/
12. Clemenceau Medical Center
Beirut, Lebanon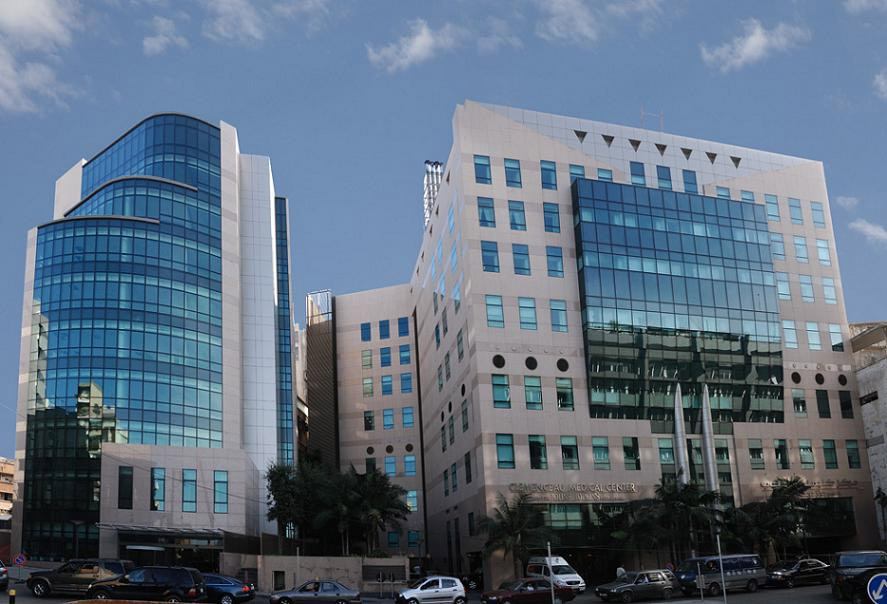 Image Source
Affiliated with Johns Hopkins, this top private hospital in Lebanon was opened in 2006. The facility was awarded Best Hospital Design and Best Sustainable Hospital Design in 2009 by the Inaugural Hospital Build Awards, and was created to imitate a five-star luxury hotel. Known for its emergency and intensive care units, the hospital specializes in cardiology, ophthalmology, and digestive diseases, and strives to create a friendly and soothing environment for patients and their families. The hospital is also equipped with a coffee shop, gift shop, and valet parking service.
Sources:
http://www.hopkinsmedicine.org/international/international_affiliations/middle_east/clemenceau_medical_center.html
http://www.albawaba.com/news/beirut%E2%80%99s-clemenceau-medical-center-leads-way-innovation-and-excellence
11. Rudolfinerhaus
Wien, Austria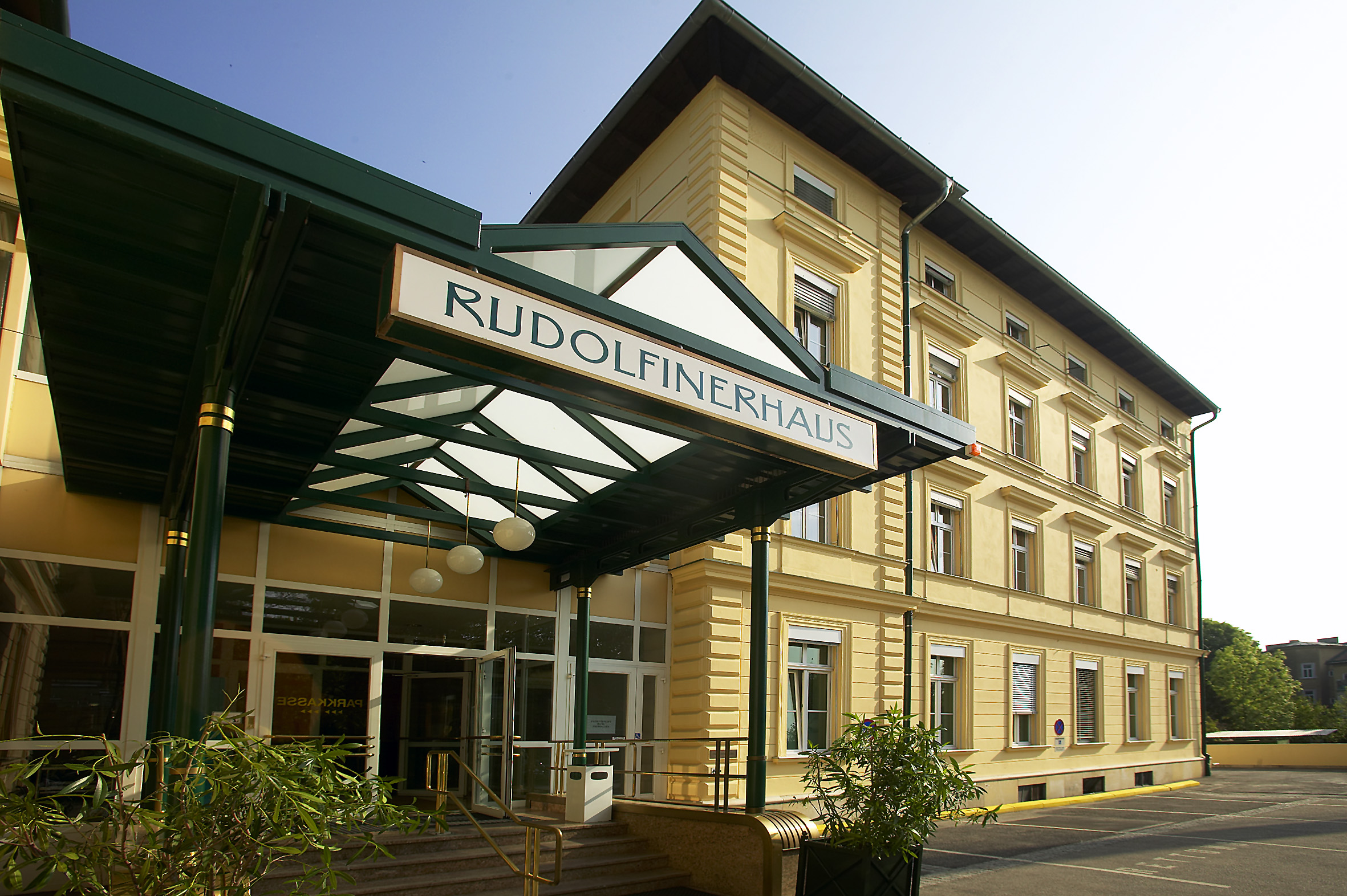 Image Source
Originally established in 1882, Rudolfinerhaus was restored in the middle of the 20th century to repair damages suffered during World War II. Known as one of Europe's top private hospitals, the facility includes a modern nurses' residence and is located in the Vienna Woods, one of Europe's most beautiful natural settings. This comprehensive care facility includes a specialized heart care center, urology, cosmetic, and pain therapy departments, and boasts state-of-the-art technologies in a luxury hotel atmosphere. The facility's motto reads,"Vienna's Leading Private Hospital,"and with over 125 years of service, Rudolfinerhaus certainly lives up to this creed.
10. Richard Desmond Children's Eye Centre at Moorfields Eye Hospital
London, UK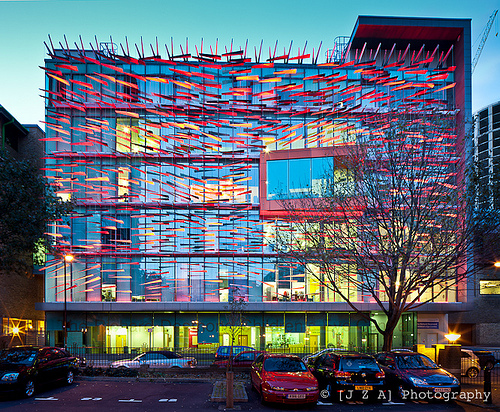 Image Source
Undoubtedly one of the city's most eye-catching buildings, the Richard Desmond Children's Eye Centre in London was built in 2007 and was designed by architectural firm Penoyre and Prasad. The structure's façade features a number of colorful folded aluminum panels that offer shade during the day and reflect a colorful interior lighting scheme. The hospital interior is warm and friendly, with colorful furniture pieces, engaging colors, and a child-focused program reflected within the design of the facility. With play and relaxation areas, and a clinical focus on pediatric eye care in collaboration with the neighboring Institute of Ophthalmology, the Richard Desmond Children's Eye Centre offers compassionate care solutions in a kid-friendly environment.
Sources:

http://www.moorfields.nhs.uk/content/our-history
9. Phoenix Children's Hospital
Phoenix, Arizona, USA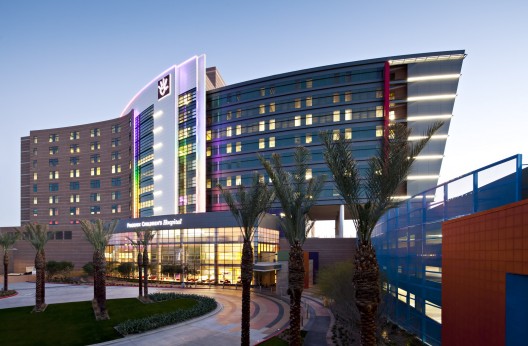 Image Source
Another stunning example of child-focused design, the Phoenix Children's Hospital was designed and renovated by HKS Architects. Intended to reflect the surrounding natural environment, this desert oasis-inspired building offers family-centered care solutions in an uplifting atmosphere. With colorful lighting, murals, and sculptures placed throughout, the hospital also features private patient rooms with sleeper sofas for guests, rooftop garden, and meditation area. The renovation also improved pedestrian access and utilized locally sourced materials whenever possible. The structure also maximizes the use of daylight while simultaneously reducing the building's interior temperature, a necessary characteristic in the Arizona desert.
Sources:
http://www.phoenixchildrens.org/about
http://www.archdaily.com/220749/phoenix-childrens-hospital-hks-architects/
8. C. S. Mott Children's Hospital
Ann Arbor, Michigan, USA

Image Source
Located on the University of Michigan Health System Campus in Ann Arbor, the C.S. Mott Children's Hospital houses a state-of-the-art research, education, and clinical facility covering nearly 850,000 square feet. The hospital, originally opened in 1969, recently underwent a renovation costing $754 million, which included the addition of a 12-story inpatient wing, and 50 private maternity rooms with 300 square feet of additional sleeping space. The space also has an outdoor garden park, family workout room, meditation space, and gift shop, and the indoor playground is a popular place for children. The hospital also houses an extensive art collection, that can be viewed throughout its halls, and includes the work of local and internationally renowned artists like Beverly Fishman and Heather McGill.
Sources:
http://www.mottchildren.org/about-us/new-hospital-facts
http://www.wikipedia.org/wiki/C.S._Mott_Children's_Hospital
7. Sky Ridge Medical Center
Lone Tree, Colorado, USA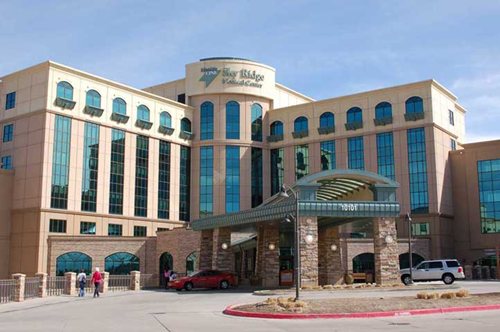 Image Source
Sky Ridge Medical Center was designed by Gresham Smith and Partners of Nashville, Tennessee, and was completed in 2003. The 57-acre campus includes 186 beds, private rooms, and amenity suites that provide patients with access to private chefs and concierge service. The center also specializes in pediatrics, sports medicine, and rehabilitation, and is home to the nationally renowned Sky Ridge Cancer Center. The hospital's extensive art collection includes works by local artists in an attempt to bring aesthetic beauty and a sense of home to guests. The Pet Partner Volunteer program also aims to help soothe and comfort patients by providing regular animal companions to aid in in-patient therapy.
Sources:
http://www.skyridgemedcenter.com/about_us/
http://www.skyridgemedcenter.com/about_us/hospital-facts.htm
6. Bunrungrad International Hospital
Bangkok, Thailand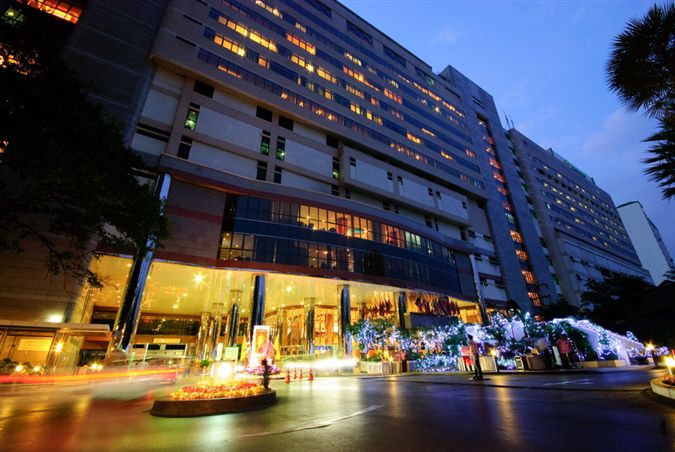 Image Source
Bangkok's Bunrungrad International Hospital provides world-class healthcare in a soothing and healing environment. Incorporating the latest technologies and an advanced hospital information system, the facility is the largest private hospital in Southeast Asia containing nearly one million square feet. Founded in 1980, the hospital offers a one-stop center and specializes in multiple areas of care, and boasts 580 beds and 1,200 doctors. With 57 deluxe rooms, 21 VIP suites, and 2 royal suites, Bunrungrad International Hospital is fully equipped to provide for a variety of patient needs.
Sources:
http://www.wikipedia.org/wiki/Bumrungrad_International_Hospital
http://www.bumrungrad.com/en/about-us/bumrungrad-factsheet
5. Carilion Roanoke Memorial Hospital
Roanoke, Virginia, USA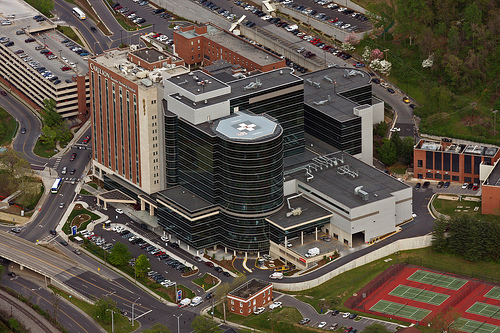 Image Source
Designed by HOK architects, the Carilion Roanoke Memorial Hospital houses 825 beds and a Level I trauma center. The 280,000 square foot addition and 149,000 square foot renovation divides the hospital into four care entities that include women and children's facility, an emergency department, an outpatient surgery center, and a cardio-vascular care center. The hospital is one of Virginia' largest and also has ten residency programs and a neonatal intensive care unit. The newly renovated hospital opened in 2003.
4. St. Luke's Medical Center
Global City, Philippines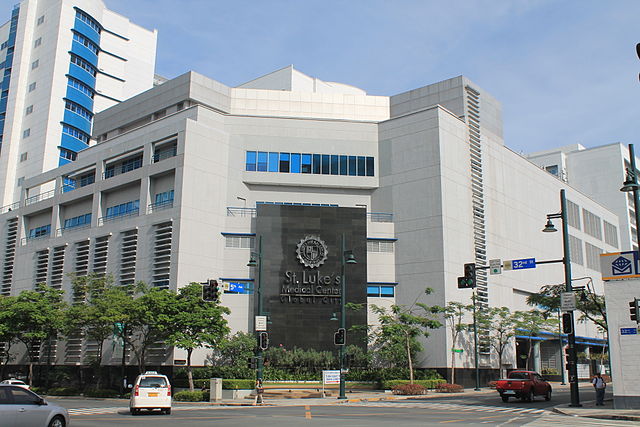 Located in Global City, St. Luke's Medical Center is considered to be one of Asia's best hospitals. Leading the international medical community in cardiovascular, neurological, and oncological care facilities, the hospital has 652 beds and has been affiliated with Memorial-Sloan Kettering Cancer Center in New York City since 2005. Established in 1903 by American Episcopalian missionaries, the hospital continues to strive to support the health and care of the Filipino people. Professionals affiliated with the hospital make regular trips to many of the Philippines' rural areas to administer medical, dental, and surgical procedures to those without easy access to regular healthcare.
Sources:
http://www.wikipedia.org/wiki/St._Luke's_Medical_Center
http://globalnation.inquirer.net/32207/st-luke%E2%80%99s-rated-among-world%E2%80%99s-most-beautiful-hospitals
3. Legacy Salmon Creek Hospital
Vancouver, Washington, USA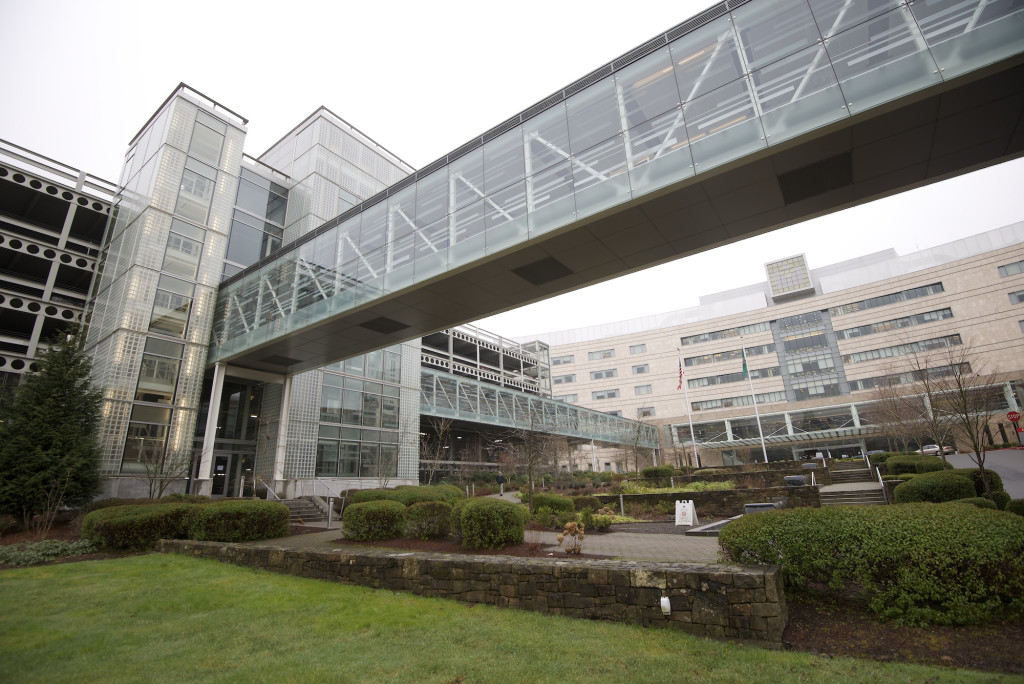 Image Source
Located in beautiful Vancouver, Washington, Legacy Salmon Creek Hospital was designed by Portland, Oregon architectural firm Zimmer Gunsul Frasca Partnership. With 194 beds and a warm, comfortable, family environment, the hospital focuses on stroke treatment and joint replacement, and offers regular courses and events to promote health and wellness including driver safety and aerobics. Leading the world in hospital design, the facility was designed with energy efficiency in mind, and houses a healing garden, gift shop, and a coffee cart. Specifically designed to promote health, healing, and comfort, the hospital utilizes natural light and calming neutral tones providing a calming environment.
Sources:
http://www.idlseattle.com/t100/CAS_LSC.php
http://www.legacyhealth.org/locations/hospitals/legacy-salmon-creek-medical-center.aspx
2. Hospital Punta Pacifica, Johns Hopkins
Panama City, Panama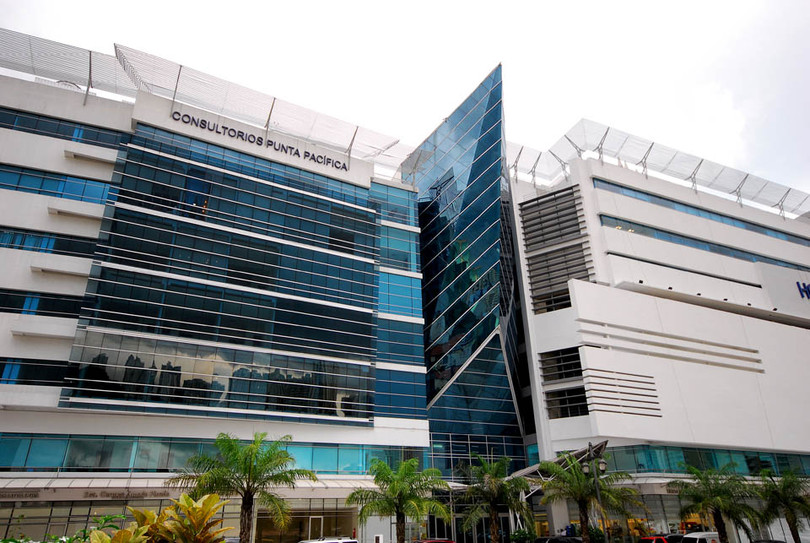 Image Source
Affiliated with Johns Hopkins, the Hospital Punta Pacifica was designed and developed with the help of local doctors and businessmen who envisioned a state-of-the-art medical facility for the people of Latin America. Striking, angled dark glass enhances the facade of this digitally focused hospital, and compliments the contemporary interior space. Opened in 2006, the center has 80 beds including 52 private rooms. Specializing in cardiology, pediatrics, and endocrinology to name a few, the facility's development continues to grow with the assistance of Johns Hopkins. Providing training to improve clinical development and infection control, Johns Hopkins brings its experience and knowledge to the people of Latin America.
Sources:
http://www.hopkinsmedicine.org/international/international_affiliations/latin_america_caribbean/hospital_punta_pacifica.html
1. St. Rose Dominican Hospitals, Siena Campus
Henderson, NV, USA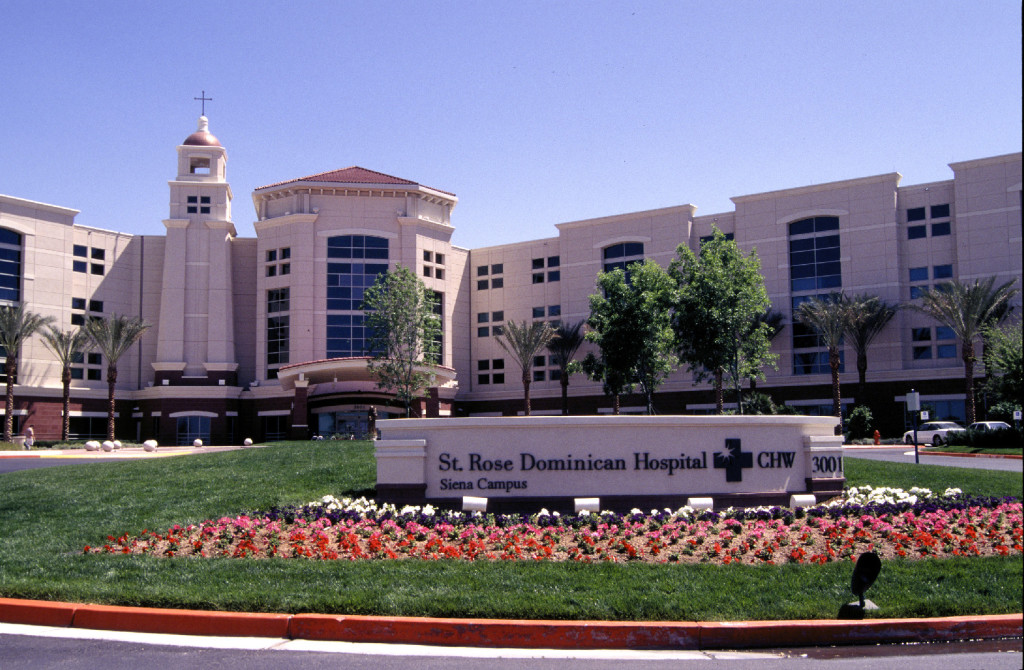 Image Source
Operated by Dignity Health, St. Rose Dominican Hospital's Siena Campus underwent an expansion and renovation in 2003. With 214 beds on three campuses, the facility is the only non-for-profit religiously sponsored hospital system in Southern Nevada. The hospital continues to grow and is best known for its cardiology and open-heart surgery center. With a healing garden and focus on kindness and care, the facility continues to deliver exemplary service in its beautiful state-of-the-art facility.
Sources:
http://www.strosehospitals.org/Who_We_Are/History/index.htm
http://www.wikipedia.org/wiki/St._Rose_Dominican_Hospital_%E2%80%93_Siena_Campus
For a high resolution image of the award badge in this article, to be used for your promotion or publication purposes, click here.